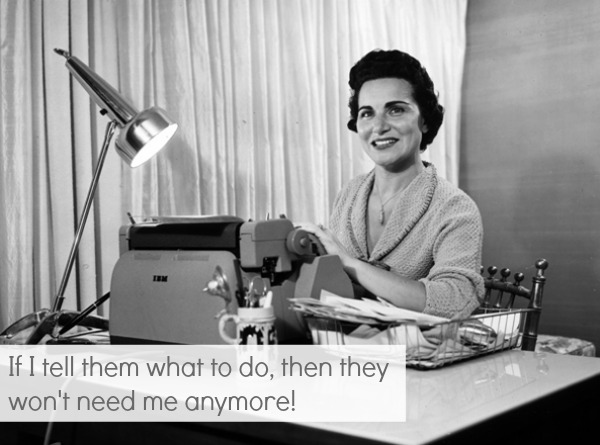 If you've spent any amount of time reading Problogger or Copyblogger or, well, any website that bosses you around about blogging, you know you should be writing advice and how-tos and tutorials on your blog.
There are heaps of reasons that why is a good idea.
* It helps position you as an expert ("I know how to do this and I'll show you how!")
* It establishes trust with your readers ("I'm so experienced I can share my knowledge with you!")
* It builds goodwill with your readers ("I'm sharing useful + valuable information with you because you're important to me!")
But. What's the difference between a great tutorial that gets forwarded around the internet and one that inadvertently teaches your entire readership how to do what you do? And thereby teaches you out of a job?
Good question! Here are two ways to deal with that:
1.  Teach the small, easy, instantly implementable aspects of your field
I can't teach you how to be an engaging, funny writer in one blog post.  There's no how-to that will teach fledgling photographers how to capture every beautiful candid moment at a wedding.  But I can tell you five things you should do before you launch your blog.   Sarah can tell you about how to create a style guide for your blog and Alex will tell you about editing beauty shots in Photoshop.
2.  Teach the topics that surround and affect your topic
Let's say you're a makeup artist.  You want to be famous for your eyeliner skillz and get hired for photo shoots.  You're worried that if you create a series of videos teaching people how to do a smoky eye or a beestung lip, they'll do it themselves and won't hire you.  So write a series of tutorials about choosing the right makeup for your skin.   Or when to splurge and when to save on beauty products.  You can still teach readers important things about your industry without laying all your proverbial cards on the table.
But before you hoard all that knowledge like a greedy little squirrel, I think it should be said:
Even if you wrote an exhaustive, free ebook that laid out everything you'd learned over the course of your career
Even if you wrote a tutorial for every blessed thing you know how to do
People would probably still hire you to do those things for them.
I know that I could commit to learning HTML and spend months (years?) honing my design eye to redo my own sites.  But honestly?  I'd rather write and consult and pay Kim to code wrangle. I'm pretty sure I could figure out my taxes, but I feel a lot better when Fox Tax does it. People who are serious about their businesses want to bring in an expert to help them. And when you've been showing them week after week, month after month, that you know what you're talking about, you are the one they're going to want to hire.
Do you write how-tos and tutorials on your blog?  Do you ever worry you're "giving too much away"?