This guest post comes to us from Norma Maxwell, founder and CEO of Connect Interactive, LLC, a digital creative agency that specializes in WordPress design, development and strategic online success building. Her passion is helping clients create a strategic online presence that not only connects with the right people, but resonates long after they have made their first contact. Connect with Norma on Twitter or Facebook.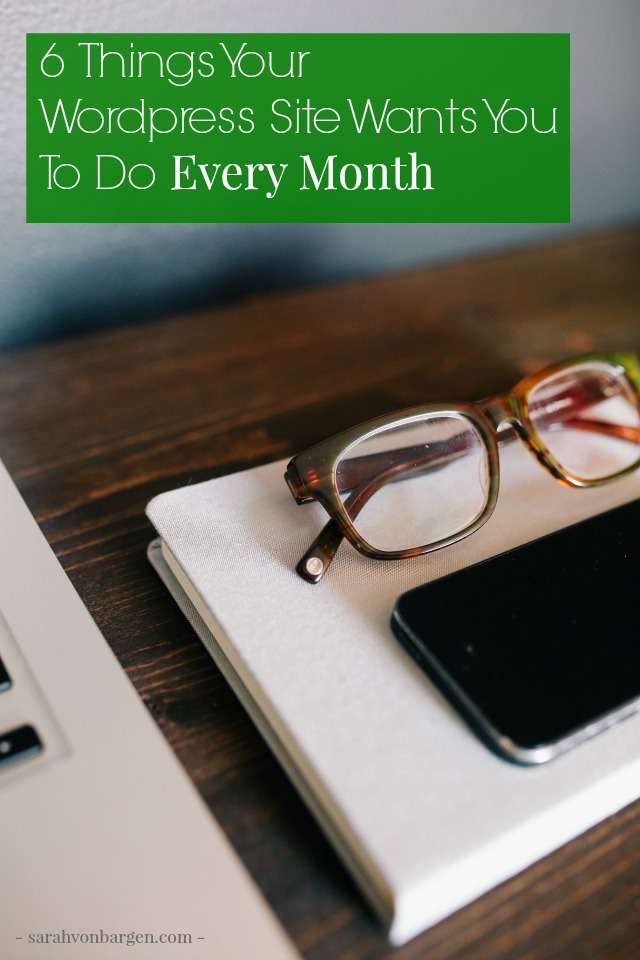 WordPress is like a car. It needs regular tuneups to keep running smoothly.
Having your own self-hosted WordPress website is a beautiful (and necessary) thing for any serious business owner or blogger. Unlike websites hosted on proprietary platforms owned and controlled by someone else, a self-hosted website is 100% owned and controlled by you.  It's like the difference between owning your own car, or renting from someone else.  When you rent, you follow someone else's (always changing) rules, and you pay a lot more money for the privilege.
But, just like owning a car, having a self-hosted WordPress website requires upkeep.  You keep the oil changed and schedule regular maintenance to make sure your car keeps running smoothly. In the same way, your website requires regular maintenance to make sure it stays up-to-date, secure, and runs like it should. You can change the oil and run the maintenance on your car yourself, or hire a mechanic to do it for you. Either way, you owe it to yourself to make sure your website stays secure and maintained, so you won't find yourself broken down on the side of the Internet highway.
How to Keep Your WordPress Website Maintained + Safe
Create a weekly or monthly (depending on how much content you stand to lose if you do it less often) complete backup of your WordPress database, images, and all content.
You can do this by purchasing a backup plugin that will help you create the backup. I use the Backup Buddy plugin on my clients' websites. Store the backups locally on your server and on a remote storage account (such as Amazon S3). Although some hosts offer backup plans, if something happens to their server, you'll have a complete backup of your website stored elsewhere, which gives you peace-of-mind-just like keeping your important papers stored in a safety security box in a bank.
Keep your WordPress software, themes and plugins updated.
If you don't, you run a real risk of your website getting hacked and infected with malware. Every time WordPress releases an update, it's because the developers have discovered a vulnerability, or are making the software perform better in some way.  The same thing goes for themes and plugins you're using on your site. You get an alert in your administration panel when an update has been released, and it's a two-three click operation to update your software.  Whenever you log in, if you see a plugin, theme, or WordPress requires an update-just do it.
Remove unused themes and plugins, and get rid of unnecessary plugins.
Any extra software on your website creates risk. If you're not using a theme, delete it.  Same thing goes for any disabled plugins on your site. If you have plugins installed on your site that aren't absolutely necessary, get rid of them.Less is definitely more in this case because the most important thing you can do for your visitors is offer them a safe visit to your website, and maintaining a healthy, fast website is the best way you can do this for them. A bunch of plugins you don't need = slow site performance. Slow site performance = lost visitors to your website and lost revenue for your business.There are thousands of plugins available for WordPress, but that doesn't mean you should use them all!

Any developer in the world can create a plugin which means the quality can vary a LOT.  Some plugins are great, and some not-so-much.  Check to make sure the plugins you use are supported and regularly updated by the developer.  Read user reviews to see if people are having positive results from the plugin.  You can find all this information on the WordPress.org page for that plugin (if the plugin you want to use isn't listed there-it's a red flag, so I would recommend you don't use it).

Perform regular security scans.
Hackers are busier than ever wreaking havoc on innocent websites. It's a fact of life that can't be ignored because one malware infection can cause you to lose all of your website content, put your site visitors at risk, and potentially cause your website address to be blacklisted by Google. All of which would definitely NOT be good for business. You can monitor your WordPress website for malware by using a plugin like WordFence or setting up a subscription web service like Sucuri to make sure you'll be notified of any vulnerabilities your site has immediately.
I also recommend installing the iThemes Security plugin to give yourself an extra layer of protection against threat by hiding vital areas of your site, restricting access to important files, preventing brute-force login attempts, detecting any attack attempts, and notifying you by email if there are any issues with your site.
Use a comment spam prevention plugin like Akismet to control comment spam.
You can review any spam comments it catches in the admin section of your site.
Create a secure username and password and change it regularly.
A secure password is 18 characters long, and contains a combination of special characters, capital and lowercase letters, and numbers. You can use a free application like Passpack Desktop to help you generate secure passwords and store them securely in one place so you can always look them up when you need them.
I know it seems like a lot of work, and it does take some time, but if you take these steps, you'll have a safe, secure website that runs like a charm and doesn't stress you out.  Your website takes care of you in so many ways, so it makes sense that you need to take care of it to make sure it functions as it should.  If you'd rather have dental work than do this yourself, I have a Monthly Maintenance for WordPress package just for you.   I'll take care of making sure your website is safe, secure, and running smoothly so you can focus on what you do best!
What updates do you run on your site? What are you favorite plugins? Tell us in the comments!
P.S. 7 ways to spring clean your blog and How to use Google Webmaster tools in a non-overwhelming way.