I originally wrote this as a guest post for the awesome Michelle Ward, of When I Grow Up fame.  Pop over and check out her blog full of helpful, crazy useful posts about business, self-employment, and dream fulfillment.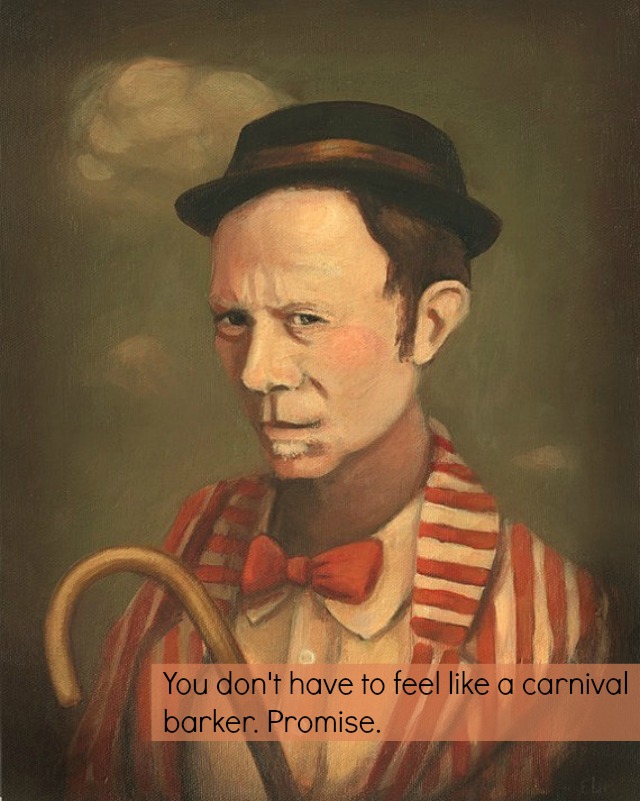 You're a clever, engaged, self-starting type of person.  So you obviously have a blog for your small business or consulting practice.  And you use it to network with your peers, showcase your expertise, and share juicy behind-the-curtain secrets of your work.
But.
You don't quite know how to actually promote yourself and your goods/services on your blog.  You've tried and it just comes out sounding like hard-sell malarkey.  Which is totally not your jam.
No worries!  Here are three ideas for blog posts that will promote you + your stuff without making you blush.
1. The 'Why I Charge This Much' Post (For: Everyone)
Gosh, but we all love transparency.  And we love it even more when it comes from someone whose prices are a bit more than we're used to paying.  But the general public doesn't understand the scope of the work that goes into photographing a wedding/sewing a dress/creating a logo.  Share your work process, your time frame, and – most importantly – all the benefits they reap from working with you.
 2. The 'How This Works' Post (For: Coaches, therapists, consultants)
If someone hasn't worked with a coach or consultant before, the entire process can be really intimidating and weird.  "Do we just talk on the phone?  What's the deal with this group class?  How is this different than talking to my best friend?"
Ask a favorite client if you can record – either on video or audio – one of your sessions.  Potential customers can see and hear how the sessions work and witness first hand exactly how awesome you are.
3.  The 'These Are My Products In Action' Post (For: Everyone)
People want to know that if they're giving your their hard earned money, they're going to look amazing/find their dream job/have a perfectly organized closet.  Of course, you have a testimonials page that says all that, but photos and links speak louder than adjectives.
If you're a fashion label that specializes in easy-wear dresses, assemble a photo post of customers wearing your dresses while traveling.  If you're a dating coach, you could craft a post filled with photos of happy couples you helped unite.  Designer?  You need a post of your five most recent logo designs.  A business consultant can write a post devoted to all her clients' new offerings and business accomplishments.  And as always: add a call to action at the end of the post, linking to your services page.  But you already knew that, right?
See?  That wasn't too painful or embarrassing, was it?  Now get out there and start (classily, cleverly) self-promoting!
How do you promote your products + offerings in a way that doesn't feel gross? Tell me the comments - we'd all benefit from sharing our best stuff!
P.S. Did you know that when you sign up for my newsletter and send me your URL, I'll give your site a once over and send you three, specific-to-you suggestions to make your online space more polished, trafficked, and money-making?
image by Black Apple, for sale here