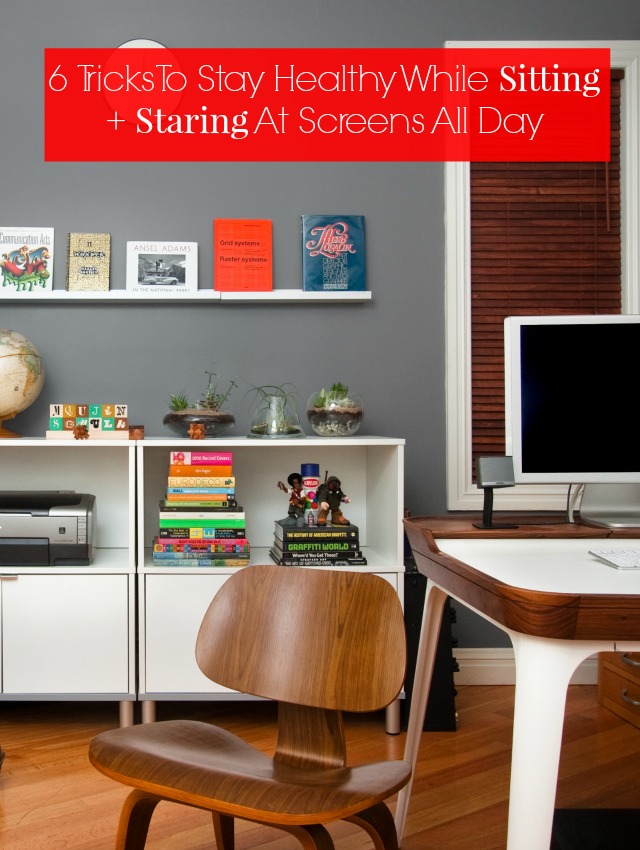 So here's something creepy.
I'm 99% sure that I'm developing ulnar tunnel syndrome (it's the red headed step-child of carpal tunnel syndrome).  And I'm 99% sure that I'm getting it because I insisted on using a super cute, design-y desk chair and a super cute, tiny mouse.   I don't want some  dorky, ergonomic monstrosity maring my adorable office!  I don't want visible wires!
Buuuuut, I also don't want to lose feeling and function in two fingers on my left hand. Or undergo an expensive and painful surgery.
So!  In honor of being a Grown Up Who Takes Care Of Her Body, I've started making a conscious effort to really, really look after myself during all those hours spent sitting and staring.
Here are some of the things I've been doing to stay healthy:
1.  Take a break every 25 minutes
I've been a missionary for the Pomodoro method for quite a while, but I often used those five minute breaks to check Facebook or do exciting things like wash dishes.  Now I use my break time to do a few sun salutations, some lunges, put my legs up the wall, or just close my eyes.
2.  Drink one metric ton of water
You already knew that, right?  In addition to staving off headaches and making your skin lovely, drinking lots of water will reduce Dry Screen-Staring Eyes and you'll also have to pee more often - which will get you up and moving around more often. I try to drink at least two full water bottles each day and I fancy it up by adding pieces of fruit, fresh herbs, or tea bags.
3.  Switch between contacts and glasses
Your eyes don't particularly enjoy staring at screens all day.  Give them a break by occasionally wearing glasses instead of contacts or at least keep some rewetting drops on hand. (Note: Visine doesn't actually help with dry eyes, it just constricts blood vessels so your eye don't look bloodshot.  I'm the last person in the world who wears hard contacts, but I like these drops.)
4. Get regular massages
Wait!  I know you're thinking "Von Bargen, I'm not made of money!"  I know, dude.  But! Groupon is full of massage coupons and many malls feature those '$1 per minute' places.  You'd be amazed by the difference seven minutes can make.
5.  Add plants + a humidifier to your office space
If you live in humid climate, go ahead and disregard the latter part of the above sentence but Minnesota gets drrrrry in the winter.  When the the air is dry you're more likely to get sick and your eyes get even drier and more worn out.   Humidifiers are good for your skin and eyes and they actually make cold winter air feel warmer (and you can even get a cute one!)
What's the point of buying a potted plant?  They clean the air, decrease stress, and improve productivity.
6. Do non-sitting, non-staring things when you're not working
A lot of us (myself included) engage in sitting, screen-staring hobbies even when we're off the clock. (For the record, cat video-watching toooootally counts as a hobby.)  But your body and eyes and brain will be a lot happier if you use some of your time making things with your hands, cooking, talking to friends (like, with your voice while looking at their face), hiking, being outside, or really just doing anything that's different than what you've been doing for the last either hours.
Also?  Pony up and get the dorky ergonomic chair/keyboard/mouse.  Your health is way more important than having an office like this.  (Though I do want a mirror desk now.)
Has your office job had any effect on your body or health?  What are you doing to stay healthy?
photo by nkeppol // cc