A version of this post appeared on the Small Business Bonfire blog. Pop over and paw through their archives for tons of great info!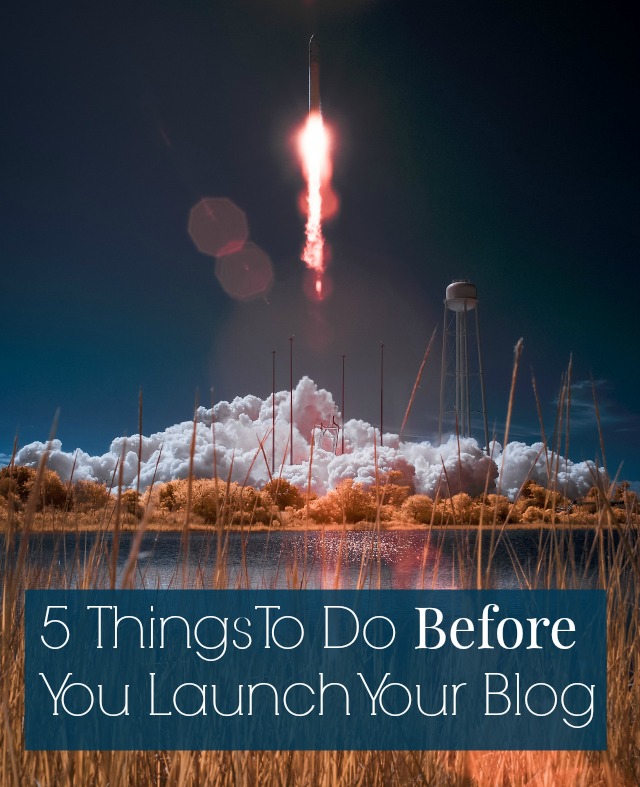 Disclaimer!  If you're looking to launch a sweet, personal blog in which you post photos of your cat and cocktail recipes
a) please send me the link so I can read it
b) disregard this post because this ish is for Serious Small Business Blogs
With that said, here are five things you can do to make sure your business's blog launch goes off without a hitch, gets lots of return traffic, and is professional + polished like whoa.
1. Create a backlog of content that corresponds with your posting schedule
Because you know that posting consistently is really important, you decided you'll be posting twice a week, on Tuesdays and Thursdays, at 6 am.  Before you even tell anyone about your blog, you should create the equivalent of a month's worth of posts and backdate them appropriately.  In this case, you'd write eight blog posts and backdate them for the previous Tuesdays and Thursdays.
Why?  Once you announce to your friends + family + customers that you have a blog you'll have a big ol' traffic spike as everyone pokes around your site.  And you want to make sure that there's plenty of content for them to read.  And you want them to think "My goodness but she is a reliable + professional individual!  I bet if I hired her, she'd do a great job!"
2. Schedule at least a month's worth of posts
Life happens.  You might get busy or uninspired and you'll feel way, way better if you know you've got at least a month's worth of editorial buffer.  And you want to retain the trust you've built with your readers by continuing to post regularly.
3.  Make sure your social media profiles are as awesome as possible
When you tell everyone about your blog, you'll inevitably get new Facebook and Twitter followers as well.  Are your profiles up to snuff?  Do your Facebook and Twitter profile photos match?  Are you using the new Twitter layout?  Have you added apps and custom app icons to your Facebook page?  Do you have a custom background on your Twitter page?  Do your social media icons match?  Are they easy to find on your blog page?
4.  Write an email to introduce your blog to everyone you know
I know it's hard to resist the siren song of 'BCC all' but this is a situation where personalized emails work wonders.  At the very, very, very least create a different email template for your friends + family, for professional peers, and for present/former clients.  Alex Franzen includes a great script for launches in her Five Scripts To Fill Your Client Docket ebook.
5. Make sure your professional goals are reflected in your blog content
Well, that's a big one, isn't it?  Before you started on this road to bloggery, surely you had a big think about what you wanted to accomplish, right? RIGHT?  If you want to sell more products, write promotional posts that don't feel gross.   If you want to get hired for speaking gigs, post vlogs in which you are painfully articulate and clever.  If you want to be viewed as an expert in your field, write crazy helpful tutorials.
You've got a bit of work ahead of you, but if you can tick off this checklist, you'll have a blog worth sticking around for.
What did you do before you launched your blog? Tell us in the comments - let's build this list!
P.S. Did you know that when you sign up for my newsletter and send me your URL, I'll give your site a once over and send you three, specific-to-you suggestions to make your online space more polished, trafficked, and money-making?

original image (without text on on top) from NASA Goddard Space Flight, for viewing here