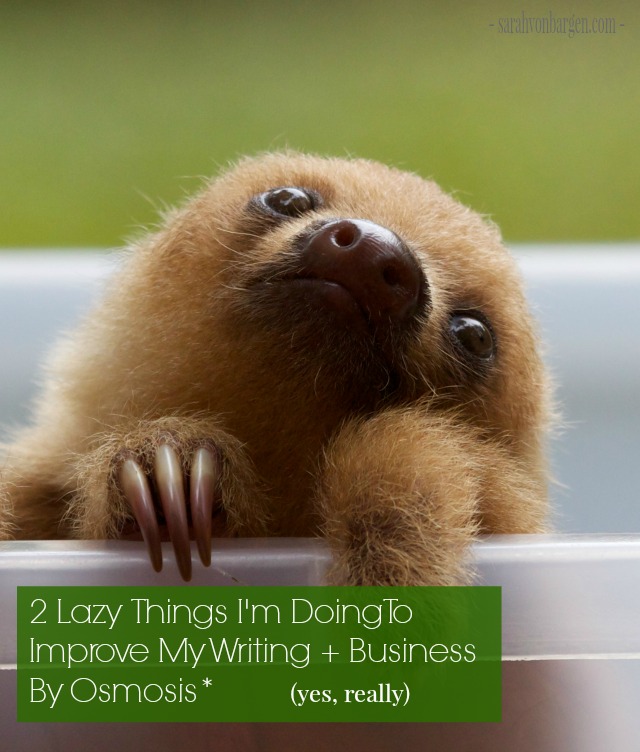 Like most other Type-A humans, I am frequently haunted by the fear that I Could Be Doing More.  I could be styling my Instagram photos better. I could be delegating better. I could be re-writing my own copy and pitching new clients and ohgodtheresneverenoughtimeishouldprobablyeatthatwholebagofshreddedcheesenow.
Not surprisingly, this mindset is
a) exhausting
b) not sustainable
c) not particularly conducive to producing positive, proud-making things
So lately, I've been trying to toe the line between proactive self-improvement and cutting myself some effing slack. Giving myself the time and space to breathe. And play bingo with my dude. And discover $5 treasures at the thrift store.  But also move forward on big exciting projects and become the writer and do-er I know I can be.
Here are two little tweaks I've made that I think are making a big difference, without taking up more time or consuming my life.
1. I listen to business podcasts while I make lunch
As I'm assembling a salad or grilling a quinoa burger (or eat a giant bowl of popcorn), I'm listening to Social Triggers, The Lede or The Eventual Millionaire. I don't take notes, I don't pause the podcast if I have to pop out to put in a load of laundry, I just 80% listen. I have faith that if an idea is good enough, it'll stick. If doesn't stick, I'll probably encounter someone else talking/writing/tweeting about it in the near future.
2. I read authors who write the way I write (but, you know, way better)
If you write for a living and spend a lot of your free time reading, you might do the same ridiculous thing I do: inadvertently start writing like the book you're reading.  I DO THIS ALL THE TIME. In fact, if you look carefully you can probably tell which blog posts I wrote while reading Annie Proulx.
But I've decided to stop fighting it and start leveraging it. I have enough awareness of my own writing voice that I know a (much more talented) kindred spirit when I read them. So if I'm going to be writing like the people I'm reading, I might as well be reading people whose writing gently nudges me closer to a better version of myself.
Because I'll never, ever be able to write like Paul Harding
"And as the ax bites into the wood, be comforted in the fact that the ache in your heart and the confusion in your soul means that you are still alive, still human, and still open to the beauty of the world, even though you have done nothing to deserve it." 
But there is some hope that someday I could write like Bill Bryson
"As my father always used to tell me, 'You see, son, there's always someone in the world worse off than you.' And I always used to think, 'So?"
Of course, I'm not going to strictly limit myself to humorous, first-person writing but in those moments when I'm aimlessly casting around for something to read, I'm making an effort to choose people whose style is like a much, much better version of mine.
Do you have any tips for improving your craft without breaking a sweat?
* yes, I'm aware that reading and listening doesn't really count as osmosis. But I tried sleeping under business books and that didn't really accomplish much.
photo by Matt MacGillivray // cc