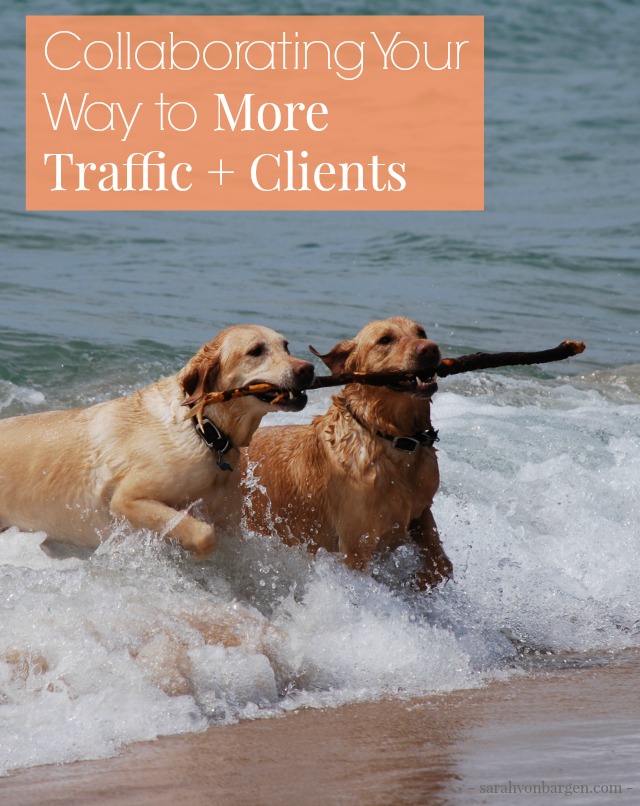 When you're self-employed or running your own business it's very, very easy to fall into the busy trap and attempt to do everything yourself.  It can be hard to delegate and when you've worked hard to flesh out your email list and develop an online following, you might even be a bit greedy about sharing your spotlight with someone else.
Don't be such greedy spotlight hogger, dude!  When done correctly, collaboration will lighten your load and expose you and your stuff to tons of new people who want what you're selling.
Want to make sure that a collaboration goes well?  Here are some questions to ask yourself before you dive in.
Does this person do something that I can't do + that my clients/customers need?
I regularly collaborate with Maria Ross on her Slice Sessions - I'm not a branding expert and Maria's not a copywriter, but together, we're nigh-on unstoppable.  I've also collaborated with web designer Sarah to dish out advice on websites - I gave content and copy advice, Sarah gave design and coding advice.
You might not want to collaborate with someone who does exactly the same thing that you do, but if they provide a service your clients probably need, team up!  If you're a clothing label, collaborate with stylists.  If you're a CSA, collaborate with a food blogger who makes and promotes recipes from your produce.  If you're a wellness coach, collaborate with a place that makes fresh pressed juice!
Are our businesses about the same size?
Different collaborators bring different things to the table.  Maybe you don't have a large online following, but you have a PhD and you've written two books.  Maybe your photographer has lots of experience with commercial shoots but very little with pets.  You don't need to limit yourself to collaborators who are in the same tax bracket, but things will probably go a bit more smoothly if you're on - if not the same page - the same chapter.
Do our businesses 'make sense' together?  Would their clients like me?
If you've been following this blog (or my larger lifestyle blog Yes and Yes) you probably know I'm not a particularly corporate person.  As such, I will probably never collaborate with Best Buy or a middle-aged white dude who talks about investments. My readers probably wouldn't like them and their customers probably wouldn't like me.  I would however, very happily collaborate with Paul Jarvis or Go Mighty or A Life Less Bullshit or Barnabas Clothing and I bet our people would love each other.
Have we been insanely, incredibly clear about who does what in this collaboration?
If you landed the client, do you get a bigger cut?  If you wrote a guest post for them, will they send it out to their email list?  If they're designing something for you, how many rounds of revisions are allowed?  How many times will they tweet about your guest post? Who's blogging about it?
You get the idea.
Collaborations can be heaps of fun.  They'll introduce your goods + services to a whole new audience and hopefully you'll introduce your people to awesome stuff they were looking for anyhow!  If you do it right, that's a win/win.
Do you ever collaborate?  Any tips on how to make the most of all that team-working?
photo by j sorbieus // cc