This guest post comes to us via the lovely and talented Bobbi of Ready To Blog.  She helps small businesses, creatives, and bloggers with branding, blogs, and web design. Forpetessake, her custom-designed Blogspot blogs start at $200!  You can follow her adventures on Facebook, Twitter, and Instagram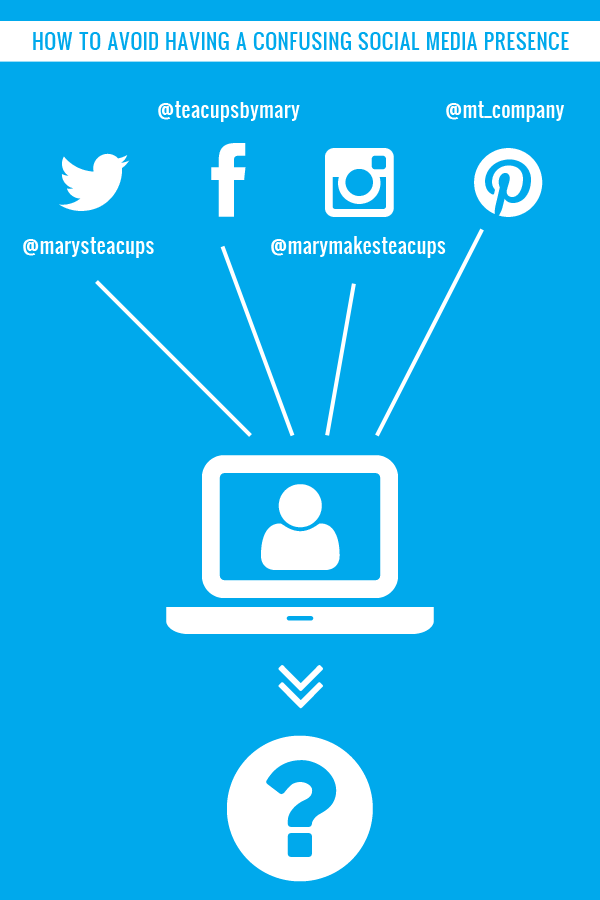 Having confusing or slightly obscure internet handle was pretty much a right of passage for anyone who can remember the times when dial-up was king and AOL used to send you CDs packed with '1,000 FREE HOURS, FREE!'
But, with the rise of social media and the proliferation of personal and social brands, it has become necessary for people to be able to find you quickly and in a way that makes sense. Before, using an acronym of all of the sports you used to play followed by a string of numbers as your Twitter handle–I actually did this at one point–might have been fine, but now doing so will rightfully earn you a few side-eyes.
A common, and damaging, mistake that many companies and brands are making on social media has to do with both consistency and clarity. How many times have you seen this: On Twitter, your favorite store has a handle of @marysteacups. Awesome! You scoot over to Facebook so give them a 'like', but you find it almost impossible to locate their page. It's not facebook.com/marysteacups. No sign of Mary's Teacups when you do a search. When you finally (finally) locate the page, you find a messy URL with an indecipherable string of numbers tacked on to the end. It's annoying, and it's totally unnecessary to force your customers to chase you around the internet just to give you some love!
If you're running social media for a company or for yourself, it's crucial that you make the best case for yourself online, and that starts with getting your social media property in check. Why?
You'll look more professional
Once you decide on a name, stick with it, and hoover up all the real-estate you can get your hands on. If you are your brand and you're going with @firstname_lastname on Twitter, go with the same on Instagram. If you can snag Facebook.com/firstnamelastname (or something close), do it! There's no reason to leave your potential customers or fans playing a guessing game to find you. Make it easy and make it obvious. (To set a vanity Facebook URL for a fan page, log in to your account and navigate here: https://www.facebook.com/username.)
You'll encourage people to engage with and share your content
It's much easier to write, "Find me on Twitter, Instagram, and Pinterest at @brandname!" than it is to list three different handles. While it might not always be possible to get your desired usernames, you should get as close as possible and keep an eye on the handles you want in case they become available. When your handles reflect your brand in a concise and clear way, your viewers will have an incentive to not only check you out on your different platforms, but to engage with you on them as well.
You'll protect your brand
You might not be Twitter-famous yet, but why risk having handles that can be closely associated with your brand snagged by someone who has nothing to do with your business? Having control of your name on different platforms means that you get to determine what's done with the real estate. Even if that's nothing, it's important for you to control the content and messaging through as many of the channels at your disposal as possible.
So, how can you get your social media in order?
Start with your domain
If you're currently blogging on a free platform like Blogger or WordPress.com, make the $10 investment and get yourself a custom dot com. If you're feeling particularly thorough, look into securing the .net, .org, or other similar secondary domains as well! This is the first step to putting your best foot forward online and to avoid co-branding yourself with a third-party.
Bring your handles in line
If you currently Tweet from @firstname_lastname and Instagram from @highschoolnickname, start changing your handles to match your brand and each other! Whether that means that both are @firstname_lastname or @companyname is up to you, but make a choice and stick with it. It's scary, I know! But the sooner you do it the better, and since you can switch your handles without losing your fans and followers, you'll be glad you made the switch in the long run. Note: If you already have a following and don't want anyone else to use your old username, swoop in behind yourself and secure your old handles with a new account. While it seems a bit strange to hold on to a handle that you'll rarely use, you'll want to have control over your old account to 1) prevent anyone else from pretending to be you and 2) direct any fans that may not check in with you regularly to your new handles.
That's it!
An investment of 20 minutes is all it takes to get your house in order and begin to project a streamlined and professional front online.