This post comes to us via Katie Lee, a lifestyle designer and relationship expert who teaches small changes to help people go from daily grind to daily gratitude. She recently released a free ebook homeHAPPYhour so you can start your own ritual for better communication and deeper connection. Want to see how she does it daily? Follow along on Instagram.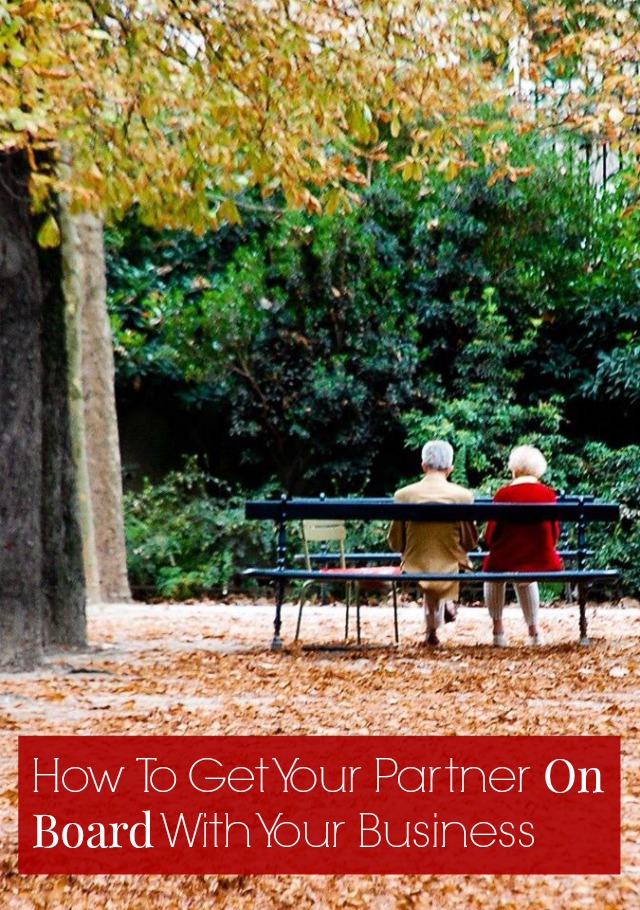 So you've decided to finally start that business, write that book, take that next step you've been daydreaming about for years. You know it will be a little scary, a lot time consuming and probably crazy hard. You can't enter this journey alone. In fact, the only way you'll make it through - or even start - is if you have the support of your partner.
They have no idea what you're talking about when you mention SEO, virtual assistants or guest posting so getting their full buy-in seems impossible.
Well, it's not. Here are four steps you can take to ensure your partner supports you and is happy to do it. It involves some show & tell.
Tell first.
Tell them your why.
Are you creating a business so you can donate part of the proceeds to a cause that means something to you? Are you coaching others because it's your natural gift? Do you eventually want to do something way bigger and this is a stepping stone?
Tell them that. Tell them your why so they can see that your side hustle isn't just a "cute little hobby." They'll remember the powerful reason you're doing what you're doing and it will help them to support the long hours and singular focus.
Tell them how.
You've heard this before, but it's definitely worth repeating "people aren't mind readers" or "we teach people how to treat us." Support is a really vague term and it means different things to different people. Saying "I need your support" is not enough. S-P-E-L-L it out.
"I need you to give me three hugs a day."
"I need you to do the laundry during launch week."
"I need you to turn the TV down on nights when I'm writing."
"I need you to tell me I'm smart and awesome on a regular basis."
"I need Oreos on-hand at all times."
Whatever you need to succeed is valid, you just need to tell them what it is and how they can help.
Show them you're serious.
It's hard to support some one who is all talk and no action. Start taking steps towards your new goal so they can see you mean business. Most people have big dreams, but few follow through. You know that doesn't describe you, but your partner may not. Start walking your talk on a regular basis, start by taking one big step forward. It will become easy to jump on your train when you're moving full steam ahead.
Show them the path.
This is THE most important step, because this is where it clicks for them (and you!) Keep them posted both on your results and on the effectiveness of the support they've offered so far.
Show them the results of the steps you've taken. When your guest post gets published send them the link. When you get new subscribers or followers share that news with them. When you land your first big client share your excitement and the details with them.
Then - and this is key - show them the path of their support.
Thank them for their support (in a memorable way ;)) Then fine tune it for the future.
"This is one of those moments where I need a hug."
"I need you to be really excited for this!"
"I need you to remind me why I'm doing this."
Once they understand exactly how to support you, what happens when they do and the results of your work it becomes effortless to keep doing it.
Is your partner on board with your business? If they weren't at first - how did you get them to take it seriously? I'd love to hear your stories in the comments!
Photo by Igor Gubaidulin // cc