This guest post comes to us via Kathleen Shannon. Kathleen just launched a podcast with her creative comrade Emily Thompson called Being Boss. We talk about doing the work, being boss in work and life release, creative collaboration, what to do when you're freaking out about money, and how to embrace your personal brand.  You can find more, including their secret episode on cultivating confidence, at www.lovebeingboss.com or subscribe on iTunes.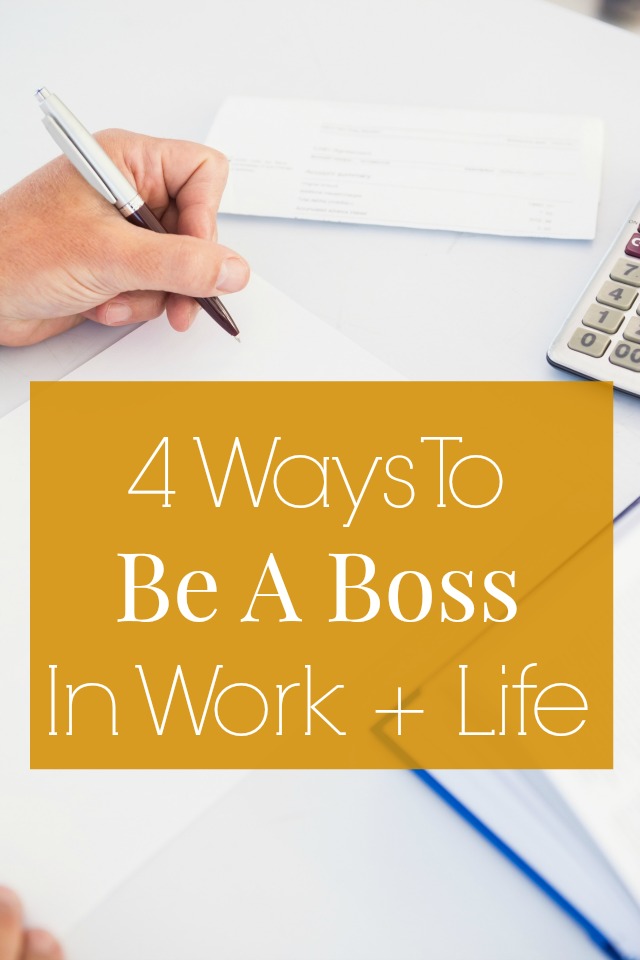 When I first started working for myself as a freelance graphic designer I knew I wanted to be in control of my days and make money being creative. But I had no idea how to be my own boss and have learned a lot along the way. Today I own a booming business helping other creative entrepreneurs not only get their vision on paper but create a brand that really feels like them. Along the way, I learned that there is no such thing as a work/life balance for creative entrepreneurs – it's more like a work/life blend. (And most of us like it that way.) But nobody teaches you how to navigate those blurry lines in art school and get paid to do it.
So today I'd like to share with you 4 ways for being boss in work and life:
1. GET IN YOUR RIGHT MIND 
I was never great at sports, but I always did best when I was feeling confident and unafraid of breaking something. My body always seemed to move a little faster when my mind was in the right headspace. Being your own boss is the same way – when you're in your right mind the rest will follow. I get in the right mindset by reading memoirs from other brave creative women like Tina Fey and Amy Poehler, listening to good podcasts, and adopting positive mantras like "I'm wildly productive and living the dream" (which is especially helpful when I'm feeling "crazy busy".)
2. ESTABLISH HABITS AND ROUTINES
One of the best parts about working for yourself is total freedom to work in your pajamas and eat cereal for lunch at 3PM. But total freedom can backfire and leave you feeling scattered and unfocused. I like to start my day with a routine of waking up at 6:15AM, eating the same breakfast every morning (overnight steel cut oats with two eggs whisked in), and knocking out three pages of free-form writing. I also like to schedule everything, including my workouts, into my Google calendar. Find consistency and ritual in your days by adopting little habits and routines where you can; it will make you feel professional but on your own terms.
3. SET BOUNDARIES 
The hardest part about being your own boss is knowing when to leave work – because work is always with you, especially if you love what you do. Setting healthy boundaries is essential to avoid turning into a workaholic and burning out. The best way to set some boundaries is to set work hours (even if it's unconventional hours) and to have a defined office space or nook if you work from home.
4. CULTIVATE YOUR CREATIVE PACK
One of the biggest struggles I hear from creative entrepreneurs, especially those who are going from a day job to build their own dream job, is feeling isolated and alone. Even introverts need a little creative collaboration (or simply a vent session) from time-to-time. Sometimes when I'm feeling lonely I'll get dressed and work from a coffee shop – I usually always end up seeing a friend, making new acquaintances (and sometimes clients!) or at the very least appreciate a change in scenery. If you live on an island (or in the middle of nowhere) and can't meet up with creative peers check out online resources like a Facebook group or online mastermind dedicated to connecting creatives with each other. Just because you're your own boss doesn't mean you have to go it alone!
Are you your own boss? Or trying to be? Tell us how you manage in the comments!
P.S. How To (Nicely) Set Boundaries With Your Clients + My 'Collaboration Guidelines'