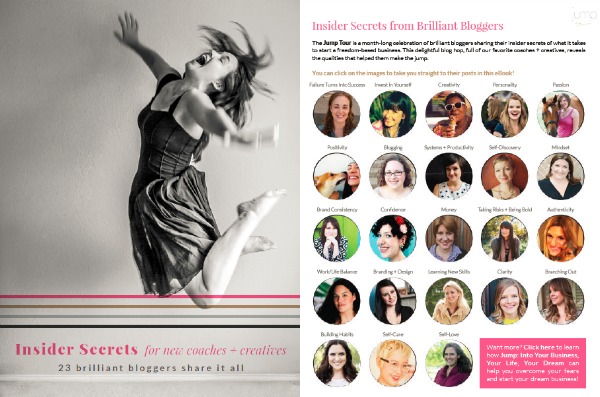 Want your own (free) copy of this book? Sign up for my newsletter and I'll send it along as a thank you!
Remember how I wrote about why having a personality on the internet is good for business? Well, it was in support of an awesome ecourse and the creators were kind enough to gather all the related posts into a beautifully designed free ebook!  And if you'd like to sign up for my small business newsletter, I'd love to share a copy with you.
Some of the things covered in Inside Secrets For New Coaches + Creatives?
How to jump into business even if you don't feel 'ready'
4 creative ways to stand out
How to discover your passion and earn more than money

5 actions you can take today today to start having more fun and get more done
Brand consistency lessons from the school of hard knocks
How to stand by your rates
Also! I've been hoarding sooooo many good links for you guys.  As much as it pains me to admit it, there are people all over the internet who are just as (re: more) clever and helpful than I am.  Here are some of their posts.
I never thought I'd like a book that uses a boxing metaphor for a title, but here we are. Jab, Jab, Jab, Right Hook is an insanely helpful book and you can get lots of insight into the ideas behind it and its author in this podcast.
If you're a maker/designer/crafter/etc, I'd be remiss in my duty as your internet friend if I didn't tell you about Designed To Sell.  Of course, I love everything Chris Guillebeau does (who doesn't?) and this course isn't any different. It helps you figure out what products to create, how to connect with the right people, and how to sell your work and make it sustainable.  Good stuff!
What's user-generated content?  It's photos of customers using your products (which you should be putting in Facebook photo albums) USG will be hot this year - particularly on Instagram.
Why successful habits are about structure not habit:
The idea is to start with something really, really small and let it grow into a bigger habit or routine. You could write your goal as "go the the gym." Not "stay at the gym for an hour," but just "get to the gym." Put on your workout clothes. It's not that you have to run five miles; what matters is that you just get your running shoes on three times a week. In a month or two months, you'll be running as far as you want to run. That consistency ends up trumping everything else that you can do with goal setting.
The structure matters. People put all of this effort into optimization and research, but honestly everything we see about success rate says that the most important thing is to structure your goals so you can be consistent.
Yessss!  The art of the email subject line. 
Not sure if you should post that thing to social media? Here are five questions to ask yourself before you do.
Well, this is fancy.  Slide.es is a beautifully designed alternative to Powerpoint.
I really appreciated Grace's take on the changes in the blogging world in her State of the Blog Union post.
* With shorter reader attention spans, we can post smaller-scale updates that allow us to be more informal and operate in a more real-time world.
* Without the structure of planning content and ad campaigns a year ahead of time, we were now free to test out new columns, pursue content only when it interested us and try things out for short periods of time.
* With reader engagement spread across different platforms it means each of our team members can find a way to connect with our community in a way that suits them best.
* With all of these new makers and voices popping up left and right, we're able to discover more inspiring people and content- and start new collaborations- on a daily basis.
This is a great pep talk to give yourself or a friend when you're feeling tired, rundown, or about to flake out.
A very, very good reminder: 19 hard things you need to do to be successful.
What amazing things have you read recently?  Leave links in the comments!