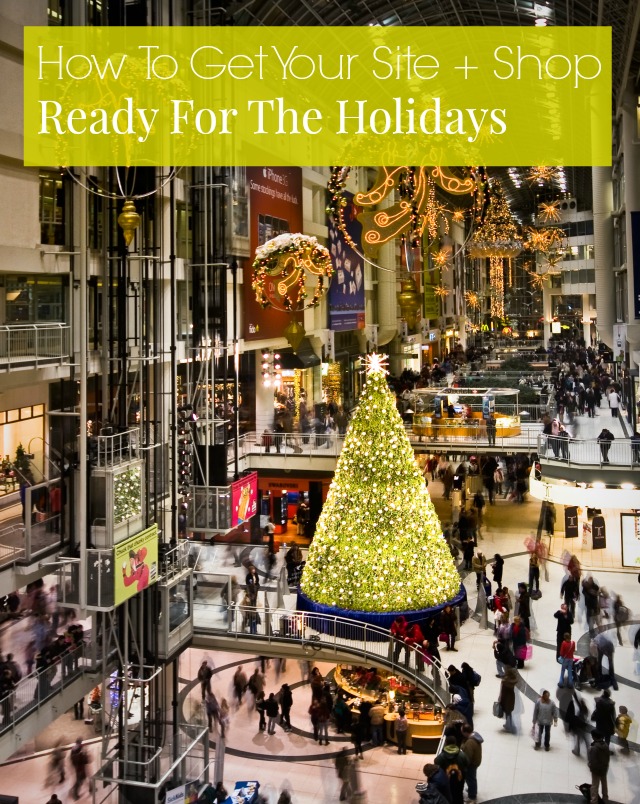 Is my mention of The Holidays giving you an eye-roll headache?
(I know. Me, too.) 
But for forewarned is forearmed, guys. For a lot of businesses, about 20% of sales happen in December; if you spend the next few weeks shoring up your shop, I bet you could nudge that percentage even higher.
Which means a longer post-holiday vacation somewhere sunny and more fancy cheese snacks.
I'm so serious about helping you guys prepare, I even called in some help. My friend Roxie co-owns Frostbeard Studio, a pottery and candle-making shop here in Minneapolis. Last year, Buzzfeed linked to their Old Books candle and things got R.E.A.L pretty fast. She was kind enough to chime in with her advice for makers and brick and mortar folks.
On the internet
Start building your list TODAY
Why do you need an email list? Oh, a million reasons. It will help you stay in touch with previous and potential customers, it will help you share updates and new products, it builds loyalty with your people.
I use and love Mailchimp, though I've heard good things about Aweber and ConstantContact. Place your signup box somewhere obvious (when I moved mine under my header, I tripled my signups!) and give your people an incentive to sign up - a free ebook or a discount off their first order.
Get Thank You cards printed
If you're sending out physical products I know you've already got your branded packaging game on lockdown, right? Like, pretty tissue paper, maybe a sticker, a signed note thanking them for their business, maybe a coupon for a future purchase? (When I sold cat calendars last year, I included a thank you note from my cat and cat-shaped confetti!)
If you're looking for card design inspiration, here's a roundup of some amazing designs.
Submit your products to blogs
Most major blogs are working on content (and gift guides) 1-2 months ahead of time, so now is the time to submit that book/necklace/thematic tarot set. Of course, read their submission guidelines carefully, address them by name (spelled correctly), tell them why you think this product would resonate with their readers and send through really gorgeous photos.
More info about how to pitch bloggers here.
Buy ad space for November + December
And make the most of it! I'd also suggest getting on this post-haste since big blogs fill up way ahead of time. (Of course, I'd love it if you bought ad space on Yes and Yes for the holidays!)
Make a blogging contingency plan
If you have a blog that you update regularly, either put it on vacation (here's how) or write posts now and schedule them out for that busy time of year. Readers are usually a) busy attending ugly sweater parties b) pretty forgiving during that time of year.
I think's it perfectly fine to just write a "Hey! We're up to our neck in holiday orders - what a lovely problem to have! See you January 5th!" post and point readers towards your archives and social media.

In your studio or shop
Make more inventory than you think you'll need
Crazy things can happen (like a Buzzfeed article!) that might throw your business into an uproar and if you just sell your usual, holiday amount? Well, you'll have a nice healthy inventory for later.
Stock up on supplies so you don't end up maxing out your credit cards
If you make + mail your goods, you'll need all sorts of unsexy stuff: labels, padded mailers, yarn, jars. It'll make things waaaay less stressful if you've got plenty of those on hand when the holiday rush hits.
Consider making a special holiday item in the gift price range (under $20)
Make it appealing, one-size, potentially gender-neutral. Highlight that product somewhere obvious (link to it on your homepage!) or create a page rounding up all your gift-price-friendly goods.
Hire help
Or at least reach out to people to see if they'd be available to help if stuff gets crazy. Good potential helpers: your freelancer friends, college-aged siblings who are home on break and want money, even parents.
Say "no" to things
Now is not the time for custom orders, a million craft fairs, moving studios, launching a new product. Keep things as simple and streamlined as possible.
Realize it's okay to close down shop early or have items run out of stock
When Frostbeard's candles went viral, they had to stop taking orders on December 7th and even then they were working 18-hour days!
Think they lost sales and momentum? No way. Even closing early they signed new wholesale clients and since then they've hired two full time employees and upgraded studios twice. If people like what you're selling they'll still want to buy it when it becomes available again. (And if you get them on your email list, you can let them know when those products are available!)
Try not to work on the weekends
Roxie warns me that she's not particularly good at this but we all know that taking breaks leads to better, higher quality, faster work.
Have treats for yourselves & employees
Order in food for lunch, hire a massage therapist for back massages. Plan a vacation (even just a weekend to relax) post-holidays! There's a reason you're doing all this hard work and it's spelled b-e-a-c-h.
Whew! How are you getting your online (or offline!) space ready for the holidays?
P.S. Did you know that when you sign up for my newsletter, I'll give your online space a once-over and send you three specific-to-you suggestions to make it tighter + more lucrative? What a good idea to prepare for that holiday traffic!
P.P.S. If you know a small business owner who stresses out every holiday season, send 'em a link to this post!
photo by wikipedia // cc