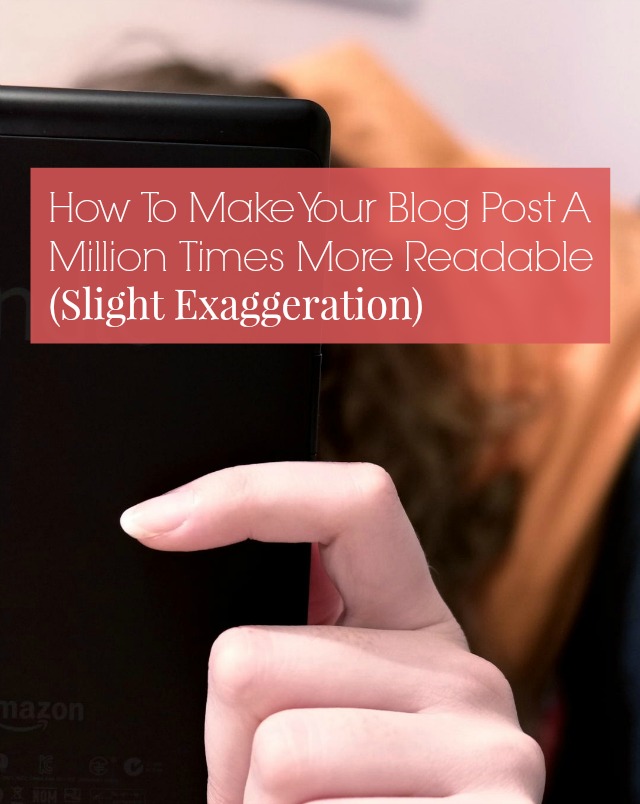 Which of the above blog posts would you be more likely to read? The left one, correct?  I mean, unless you're into huge blocks of unbroken copy and a total lack of images.  If you are, then congratulations!  Your attention span is triple that of mine.
Here's the thing about blog posts.  You can write a smart, funny, helpful blog post that subtly showcases your talents or products that will (probably) attract new clients.  But if that blog post isn't formatted correctly?  Nobody is going to read it.
Here are a few easy ways to make your blog post much, much more likely to get read.
1) Keep it short
Less than 500 words for sure.  Less than 300 is even better.  Seth Godin's posts are a paragraph long!  Nobody is ever not going to read your post because it's too short.
2) Add an image
We all like pretty pictures.  They make your posts Pin-able and if you label them correctly, they increase your SEO. Here are 53+ resources for free images!
3) Add the title to the image
You can use  Picmonkey (free! easy!) to add the title to any image. Again, it makes your post a lot more Pinterest-friendly and engaging.
4) Use headers/bullet points/numbers/bolding judiciously
People's attention spans are verging on non-existent.  Make things easy for them by making your post scannable.  Highlight major points with bolding or break up topics under headers.  Then they can scan for what interests them and read the details if it pertains to them.
 5) Write awesome titles
If you're not sure how, this headline analyzer is your new BFF as is this long list of 'emotional' title words.
6) Keep paragraphs short and use lots of white space
Don't be afraid to use white space judiciously. When we see huge blocks of texts we get overwhelmed and click away. But lots of visual breathing room and short sentences? Doable.
What makes you read a blog post?  Did I miss anything?
photo by Bruno Hautzenberger // cc