This guest post comes to us via Ilga.  She's a creative online marketing consultant located in Berlin, Germany. She's been passionate about all things Google and SEO for about 10 years and has run her own business for over 3 years, helping clients gaining more visitors for their website or online shop and turning these visitors into customers. Her website is in German but you can say hello at Facebook.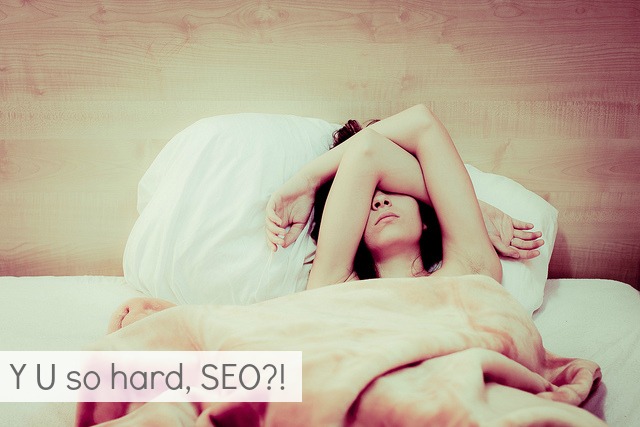 Does the online marketing world seem overwhelming? The web is so full of SEO advice, tips and tricks that it can seem rather overwhelming for startups and small business owners with limited time and budgets.
What if you could fix some things yourself or on a low budget? These quick tips on optimizing your website require little or no technical skills and most of them can be completed within a very limited time.
1. Keyword Research
What do your customers search for? While you should never obsess about keywords and don't sacrifice good copy to content stuffed with keywords, it is helpful (and important) to know which terms your audience is using when searching in Google (or Bing). The Google Keyword tool is free to use and it will give you some ideas on how to structure your online shop or website or even which keywords to use in your headlines. (Make sure to select "exact" for more accurate results though.)
2. Title Tags
Now that you know the most important keywords, you should use them in your title tags (in a clever way, do not stuff it with a list of keywords). They're still important to Google and quick to fix so start here when you optimize your website. Your brand should be part of your title tag but always have your keyword (phrase) at the beginning of the title tag as Google puts more weight on these keywords.
3. Meta-Descriptions
While they aren't part of the search engine algorithm (read: They will not directly affect your rankings), they're important for your click rate in the search results. Make your descriptions as appealing as possible so potential customers will click on your result.
Also, a quick note on meta-keywords: They used to be important to Google but that time has passed. These days you can simply ignore your meta keywords but if you *do* use them, please make sure that they're not stuffed with words (Google thinks that looks spammy and it can hurt your rankings).
4. Headlines and Website Copy
Make sure to include the keywords you want to rank for in your headlines and website copy. H1 headlines are most important but having keywords in your h2 headlines (if you use them) can't hurt either. Just avoid stuffing them with keywords or making them sound all unnatural.
5. Forget about Google
Yes, really. It's important to know about what Google likes in websites and what will make you rank higher. But! Don't obsess about SEO. Your business is still (has always been and will always be!) about your human audience. While it is good to help Googlebot understand your content, always focus on your human visitors. No compromise there!
Of course, SEO can be realllllly complicated and significantly more in-depth than this.  But these tips will get you headed in the right direction!
photo by mislav m, cc