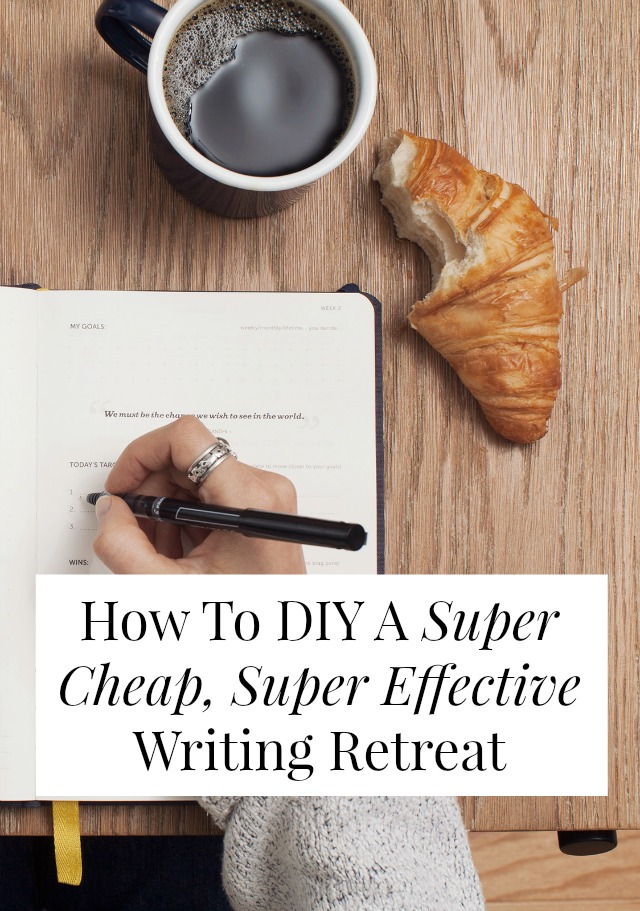 When my friend Natalie first told me what she does each month for her business, my thought process went like this:
"Ohhh, that's a good idea."
"Ohhh, that feels too frivolous and indulgent for me. Good for her, not for me."
But you should know I often have to be tricked into spending money. Like, I mentally compile a cost/benefits analysis for just about any purchase over $20. So when Natalie told me that every month she checks into a hotel for a two day writing and work retreat I was simultaneously intrigued and put off.
But then I had a free Sunday night.
And then I checked out Hotwire and found a ton of $40 hotels within a few hours of my apartment. I booked myself for just one night to see how things would go.
You guys? I'm going to do this at least once a quarter for the rest of my self-employed life.

In a 36-hour period, I wrote two months of blog posts. I analyzed my revenue streams. I got clear on which tasks, habits, and post series I should drop and which ones I should bolster and improve. I created an incredible amount of psychological and editorial breathing room for myself.
And I did it all for $40 (plus tax).

Want a DIY writing retreat for yourself? It's pretty self-explanatory, but here are a few tips that made mine more productive and more fun.
1. Print out everything you need or save it to your desktop
You don't want to waste time and energy searching for a Kinkos in a strange town or fussing with corrupted files. I think this bit of preparation also helps you take your retreat more seriously.
A few (free) planners and workbooks that might help: Kyla Roma's Website Clarity Workbook, Maria Ross's 9 Days To A Better, Tighter, More Lucrative Brand Plan, Shareaholic's downloadable editorial calendar template.
2. Gather all your notes and inspiration
I have a physical folder (how retro!) of magazine clippings that inspire me or images that light me up. Get all your inspiration in one neatly organized place so you don't waste time hunting down That One Article From Real Simple or that very important post-it note.
3. Create draft versions for everything you want to write
Use Word or Google Docs to create a draft of every single document you want to write. This could be a super rough outline or just a title and an empty document. Either way, it will help you stay on task and remind you of what you wanted to be working on.
4. Book yourself a night or two in a hotel at least an hour away
This seems like a weird detail, but I find that it's important to leave the city and be in the car for a significant amount of time. It really helps me extract myself from my day-to-day mindset. I make it into a mini road trip with gas station coffee, car snacks, and podcasts.
5. Tell your nearest and dearest you'll be (mostly) unreachable and turn on your Out Of Office email reply
You don't want to be distracted by brunch invitations or client emails during your allotted writing time. When I'm tucked away and writing, my dude and I forego our nightly check-in calls and everyone who emails me receives a polite "I'll get back to you soon" auto responder.
6. Don't ask for the wifi password when you check in

If you can resist the siren song of Facebook, you are a stronger human than I. I do my best, fastest writing when there are no distractions, so I don't even ask the front desk for the wifi login.  If you're super, duper serious you can even leave your phone in the glove compartment of your locked car so you won't be tempted to fall down a social media hole.
7. Now write
No editing. No photo sourcing. No headline analyzing or a/b split testing. I like to use this time to bang out rough drafts filled with typos and questionable introductions. My edits are better when my first drafts have had a chance to age and cure; it's freeing to write without too much concern about sentence structure.
8. Take breaks when you're feeling burnt out
I like to treat myself to a nice dinner, work through a bit of yoga, or experience that hotel water pressure that's a million times better than my apartment's. What you probably shouldn't do on your break: check your phone or watch three hours of tv.
I emerged from my retreat pretty exhausted, but proud of myself. I honestly can't put a price on the peace of mind that comes with two months of scheduled posts.
Have you ever been part of a retreat - DIY or otherwise? Do you think you'd be willing to splash out? If you know of any other free/cheap resources that would be useful a retreat, leave links in the comments!
P.S. Did you know that when you sign up for my small business newsletter I'll give your site a once over and send you 3 suggestions? FOR $0? It's true. Sign up here!
P.P.S.  This is not a sponsored post, I've just found that Hotwire always has the best hotel prices! Let me know if you use other sites to find cheap hotels!