This guest post comes to us via the lovely Kathleen Shannon!  She's  is an art director turned free-spirited champion for the small creative entrepreneur through her business show co-owns with her sister, Braid Creative & Consulting. She'll follow a whim from painting larger-than-life stripes in her living room hallway, to trekking the foothills of Mount Everest – just to have a good story to tell.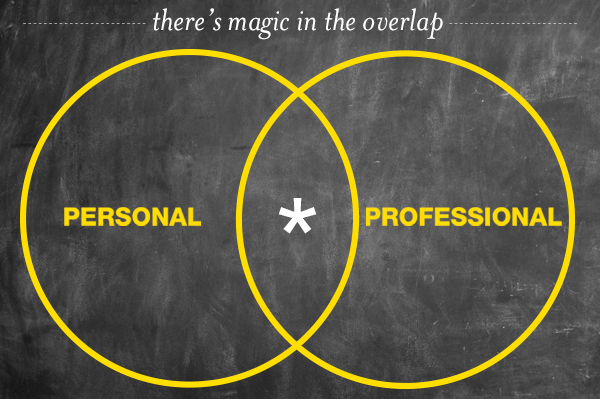 A lot of times we try and maintain a work/life balance by separating who we are and what we do. But when it comes to being a solopreneur living in the overlap is pretty much essential to a thriving business. A personal brand is what makes you memorable. And for creative entrepreneurs it's often what gets you hired.
So what exactly is a personal brand? On the surface it could be the way you fashion modern trends with vintage finds or your signature hair style. But it's more than that. It's the intangible things about you that won't change even as styles do. It's what you know and create - but also how people feel after interacting with you. A personal brand is the packaged and definitive you - both the surface-y things and the deeper stuff, too.
Here are 4 tips on how to bring a little more personality into your business:
1. Recognize that business is personal.
When your client gets to know you as a person your expertise is more likely to be trusted. And on the flipside - when you see your client as a human being you're trying to help, you're more likely to listen to their needs and effectively solve their problems.
2. Pick the social media platform that is right for you.
If you hate writing maybe a YouTube channel is a better fit for you than a traditional blog. Or if you prefer curating and collecting, Pinterest might be a great way to share that talent. And if you are great at one-liners or quick quips of advice then Twitter might be your gig.
3. Write (and speak) like you really speak.
Ditch the industry jargon and just say what you mean. Try this: write a list of words you say all the time. Start peppering those into your small business interactions online and off. For me that means saying "rad" and "hotshit" - even in front of clients. And they love me for it.
4. Share your process with your client.
It's easy to be authentic in business when you let your clients in on a little bit of the magic behind the curtain. Show your clients how you're meeting their needs as you go. Removing a little bit of the mystery can go a long way in getting your work enthusiastically approved.
Kathleen is currently offering a Braid ECourse on Personal Branding: Blending Who You Are with What You Do from Oct. 29th - Nov. 4th. Sarah Von Bargen readers are invited to take this course at a discounted rate of $65 using the promo code: YESANDYESOCT2012.