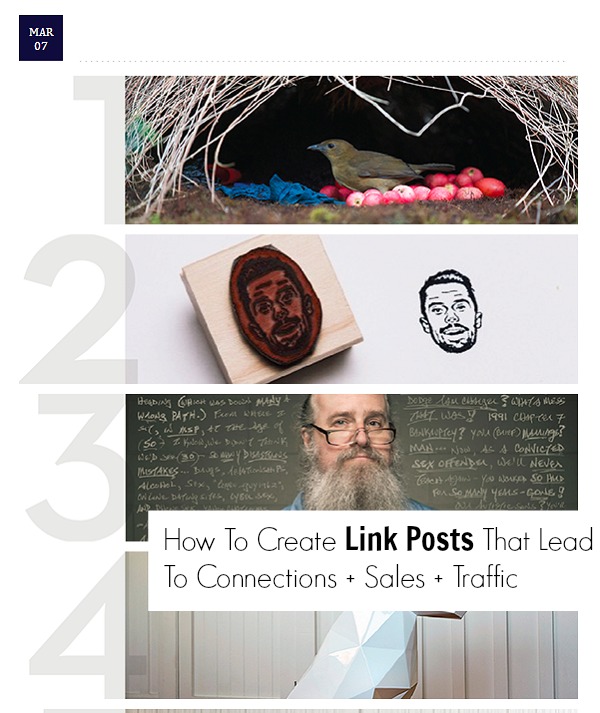 Wouldn't it be lovely to network with talented people, bond with your readers, and create content that people look forward to?
Well, dur. Do cats like treats served on chopsticks?
Last week we talked about the oddly powerful link roundup post (networks in a non-gross way! introduces your readers to helpful things! reinforces your brand!) This week we're talking about some best practices to create link posts that your readers will really, really love.
1. Find good links
Obviously, right? If you read blogs in an RSS feed (which I so, so highly recommend) it's super easy to create tags and star the posts you'll link to. If you read blogs the only fashioned way, you can simply save good posts to your favorites folder.  If you blog about something incredibly specific (bikes, vegan food, toddlers) you can use a service like Curata to help you find and curate links that are helpful to your niche audience.
2. Use affiliate links carefully and judiciously
Link posts are a great place to use affiliate links in a non-hit-you-over-the-head-with-it manner. Of course, make sure you're linking to products you actually stand behind and companies whose policies you support. You're legally required to include a disclaimer that outgoing links may lead to commissions for you. My disclaimer is in the footer of my blog, next to my copyright info.
3. When you link to people, @mention them on social media
If you're including someone in a link post, @mention them so they know you're talking about them!  They'll appreciate the publicity and it could be the first step in a great relationship. True story: I landed one of my biggest on-retainer clients by linking to her. Once.
4. @mention the writer, not the publication
If you're linking to a post on a big website (Salon, HuffPo, etc) @mention the writer, rather than the site. Most big news sites have hundreds of thousands of followers and they won't even notice your tweet. But if that writer has 500 followers, she'll totally notice (and appreciate) that you linked to her and introduced her to your followers.

5. Personalize + individualize your tweets



See the difference?  The former is waaaaay better because
a) It shows the people you're linking to which post you're talking about
b) It gives a sneak peak into the content so your Twitter followers will want to click that link
c) It caters to the ego, showing the people you're linking to that you think they're special (Awwww!)
6. When necessary/possible include quotes
I pretty frequently link to 'long reads' on obtuse topics - like this post on TED's slow deterioration. I could just type "Do you think TED is going down the tubes?" but for longer, more complex articles, I like to include a pull quote. Like this:
I was at a presentation that a friend, an astrophysicist, gave to a potential donor. I thought the presentation was lucid and compelling (and I'm a professor of visual arts here at UC San Diego so at the end of the day, I know really nothing about astrophysics). After the talk the sponsor said to him, "you know what, I'm gonna pass because I just don't feel inspired …you should be more like Malcolm Gladwell."
At this point I kind of lost it. Can you imagine?
Think about it: an actual scientist who produces actual knowledge should be more like a journalist who recycles fake insights! This is beyond popularisation.
7. Get all design-y (if you want to)
I keep my link posts quite spare but there are several bloggers who do pretty, design-y link posts. Particularly Design Crush and Coco + Kelley. 
8. Use this as an opportunity to link to some of your archived posts
I like to close out my link posts with 'Some Yes and Yes posts you might have missed' and link to three or four of my favorite old posts. This is also a great time to improve those old posts before you send them new traffic - swap in new, Creative Commons images, add text to the photo, SEO-ify the title, and format them to be more readable.
9. Link to your other social media accounts
I post my 'fave read of the day' each day on Twitter (handily organized under the #yandy hashtag) so I make sure to tell my readers that if they appreciate my taste in links, I share more every night on Twitter. It's another way I can promote good content and befriend some fantastic writers.
Whew!  That was awkwardly exhaustive. Do you guys have any other questions about link posts? Or tips of your own to share?