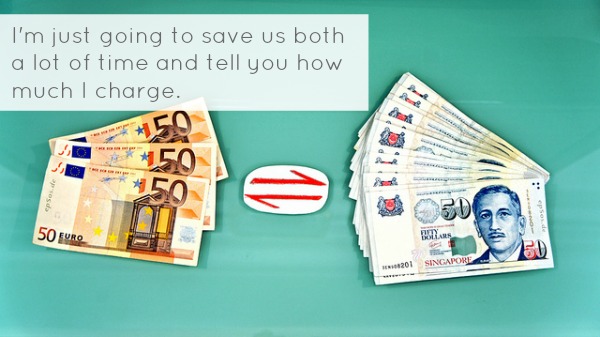 Has this ever happened to you?
One of your favorite, widely-read blog announces that they're taking sponsors.
On Facebook , a graphic designer friend says they're taking new clients.
A writer whose work you admire announces that she'd be happy to help people edit their book proposals.
But none of them actually mention how much they charge.
There are plenty of super valid reasons not to post your rates.  You want to write up individualized quotes for each client.  You want some wiggle room - depending  on how eager you are to work with someone.  Or maybe nobody else in your industry posts their rates and you're worried that yours are way, way too high (or too low.)
There are also lots of reasons to be totally, totally open about your rates - which is what I've decided to do.
Reason 1
I want to save time - both mine and my potential client's
I spend at least an hour every day responding to queries about my rates and how I work.   The answers to these questions are always the same and I do have a template email that I use - but wouldn't it be a lot easier if I just posted my rates on my site?
Reason 2
I don't want people to assume I'm out of their price range
Hiring someone to write a sales page for you seems like a Big Huge Deal that will cost you $500+ and take a month.  And maybe that's accurate with some people or marketing agencies! My turnaround time is 2-3 business days and I charge $180 for each permanent page.
Reason 3
Being secretive exhausts me
I can't be bothered to charge people different rates.  Isn't transparency a million times easier? Now I'll know that every person who emails me for copywriting or editing work has downloaded my rate sheet, knows they can afford me, and has (probably) decided to hire me.  Easy peasy, right?
Of course, there are projects that don't fit on my rate sheet: 100-word elevator pitches, mottos, researched and ghostwritten blog posts, on-going consulting gigs.  And of course, there are projects and professional fields that don't lend themselves to rate sheets - a static webpage shouldn't costs the same as a totally interactive, built from scratch website.
But it brings me (and my inbox) a lot of peace to be open about how much I charge.
Do you post your rates online?  How do you deal with putting together quotes for clients?
P.S. other money stuff:  If you're self-employed are you topping out your Roth IRA?  You should be.  I'm doing it and it's not nearly as complicated as I thought. I also keep my money at a credit union rather than a bank and I looooove it.  Also, if you're self-employed and you travel for work a lot, you should know about per diem tax deductions.  This ish will save you thousands of dollars a year. 

photo by epSos.de // cc