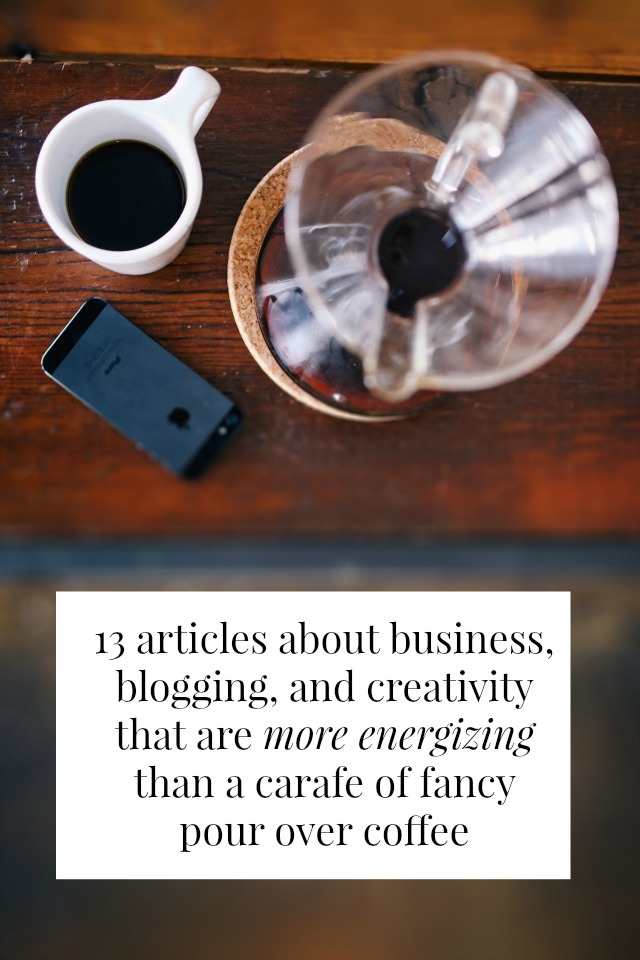 Friends! Before I share these awesome links with you, three things you should know:
1. On February 1st, I'm updating my ad rates for 2016. If you'd like to sneak in under the wire and book ad space on Yes & Yes at the 2015 rate ($80 for a 300×100 ad and $200 for a sponsored post) email me and we'll get you started! Sarah (at) yes and yes (dot) org. You can find more traffic info and the glowing praise of former sponsors here.
2. After realizing that 95.45% (!!!) of my traffic comes from Facebook, I'm winding down my Twitter presence. It's better be great at two things than bad at five, right? Come hang out!
3. Dudes, are you using LeadPages? Sweet mother Internet, you should be. Content upgrades + LeadPages = the biggest, fastest list building I've ever seen. I released a free 51-page workbook and got 1,200 new subscribers in less than a week.
Anyway! Links for you!
Make yourself a cup of that aforementioned fancy pour over coffee, settle in and watch every single one of Kristen's Web Wednesday videos. Each Wednesday, a gracious volunteer submits their blog for her once-over and she takes us along as she makes simple, straightforward suggestions for each site. So helpful! Let's all learn from each other's mistakes!
A great reminder: you're not too old to start a new career or do something you love.
S.M.A.R.T. When Sarah's post went viral on Pinterest, she added a content upgrade and landed 600 (!!!) new subscribers.
And if that doesn't convince you, Maya used content upgrades to triple her email list in three weeks.
I think it's really important to be honest about the reality of entrepreneurship; success is not a given. I admire Monique's bravery, sharing her un-income report and talking about what happened when she launched her planner.
This post isn't specifically about business or self-employment but it's totally applicable: You know as much as most people.
101 career tips you can learn in 3 minutes. (Bit of a misnomer, but a great resource!)
Do you think about the 'client experience' you're providing to the people who hire you? They want to feel like they're in the hands of a polished, prompt, reliable professional. Here's how you can create that experience for them!
SO HELPFUL. 15 workflow tips that took my business to the next level.
Could you adopt a 5-hour workday? (Probably, if we all got off social media.)
A great, basic outline on how to turn your passion into a business.
It's really important to start thinking about your passion project in terms of what it can offer others, and evolving it into a product or service that people want, whether it be an item, an e-course or a consultancy. The key here is that people actually want it. If your passion involves creating or doing something not many people seem to be in the market for, you may need to tweak what you're doing to suit your potential clientele.
One of the most common things I hear from friends and clients is "I can't get my writing to sound the way I want!" Here are five super easy ways to improve your writing skills.
Have you ever taken part in a Twitter chat? My friend Kayla launched #createlounge a year ago and it totally changed her career! 52k mentions and 127 million (!!!) impressions!
If you've read or written anything particularly amazing, please leave links to it in the comments!