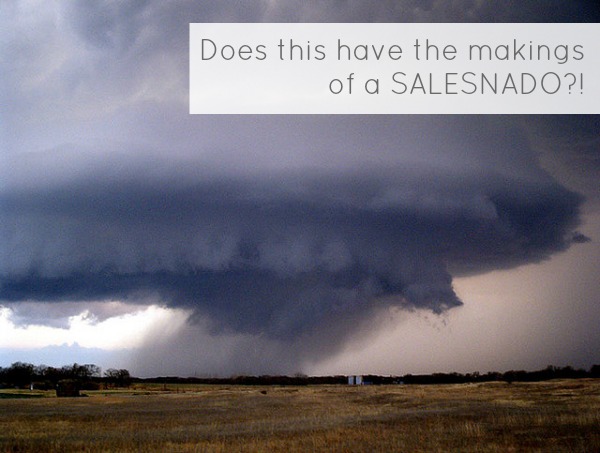 This guest post comes to us via Halley Gray. She's a marketing strategist over at Evolve and Succeed. She teaches entrepreneurs how to create great products & services and sell them with ease.
When I was first learning about marketing my brain would crumble into dust with the dry terms that float around - target market, market research, leads, marketing funnel - it was arduous for my limited attention span.
I want making sales to be easy and fun for you. Let me introduce…SALESNADO.
The structure of how you sell your goods also known as a 'marketing funnel' or 'sales funnel'. Why you need one - you've had an excellent session with your client - there was laughter, breakthroughs and pure magic. Your client ends the call by asking 'how can I work with you after this?'
'Uhh I'll get back to you, happy customer.'
Radio silence. Sale missed. This is where your salesnado should have stepped in to sweep them off their feet and up higher and higher into your other available products and services.
Selling to people who have already bought from you and want to keep working with you are what great businesses are built on.
How to make your own salesnado:
1. What's the common progression for your clients? (Problem/step one, problem/step two, and problem/step three)
2. What are the solutions for each problem? What steps do they need to take to solve each one?
3. Most affordable first and then bigger investment steps as you go.
EXAMPLE!
A career change coach wants to create a salesnado. She notices that her clients have the same three problems:
First they all need to figure out what they want to do.
Second they need to figure out the 'how' of making it happen.
Thirdly they're now doing their passionate career but it's not going as well as they'd like.
Solutions!
First - a workbook: how to figure out your ideal job.
Second - a Facebook group: making your ideal job happen.
Third - one-on-one sessions: overcoming obstacles.
Pricing!
Workbook - $35
Facebook group - $97 per year
Sessions - $300 per hour
Selling your stuff just got easier.
How do you help your clients decide which services they need? And in what order?
photo by chascar // cc