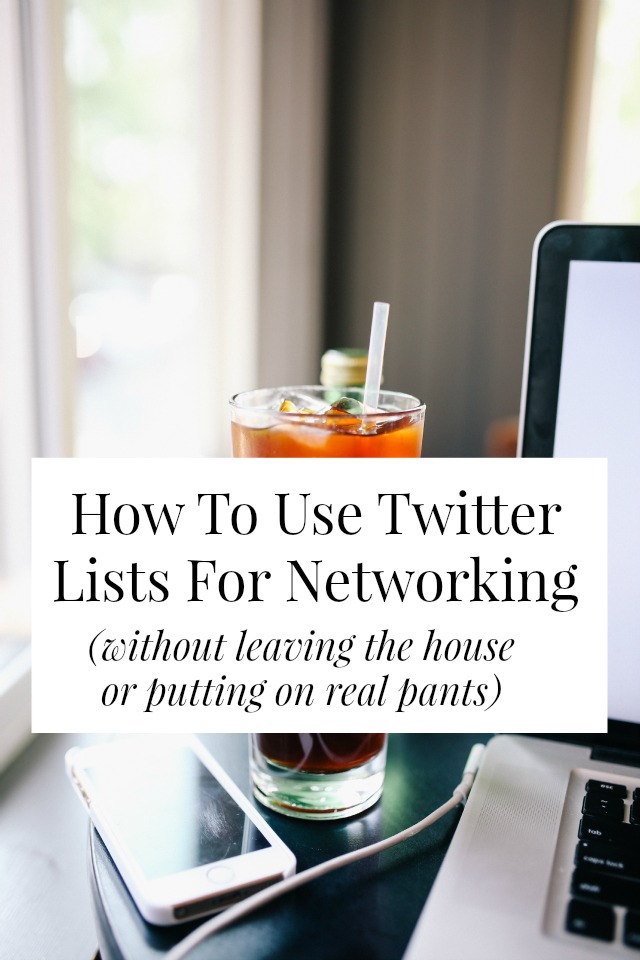 Would you rather dig your eyes out with a spoon than attend a networking event?
Or maybe you'd rather remove your own stitches?
Or lick the bottom of someone's winter snow boot?
Yeah, me too.
Despite my extreme distaste for smarmy, contrived, in-person networking, I've managed to amass a lovely and talented "professional network" - mostly by using a little-known Twitter tool!
If you prefer online networking to in-person networking, the Twitter list if your new BFF.
You probably already know that it's a good idea to follow people and companies you'd like to work with, but when you're following thousands of accounts, it's easy for the good stuff to get lost. And it's hard to network with people when you don't see their tweets.
Here's how to use Twitter lists to for networking (without leaving the house or putting on real pants)
1. Define your goals and follow accounts that will help you reach those goals
I'd like to teach a class about internet awesome-ry at a local liberal arts university. So, I researched the instructors and department heads of every single marketing, communication, and PR class in the Twin Cities, found their Twitter accounts, and followed them.
You can do the same! Want to write for magazines? Follow all the writers and editors of the magazines you'd like to pitch. Want to collaborate with fashion bloggers who wear a lot of thrifted clothing? Find 'em and follow 'em. Trying to get your products featured on travel blogs? Find travel blogs and follow them. You get the idea!
2. Make a Twitter list for each goal
Twitter lists organize different accounts that you're following, so with one click you can see just the tweets of the people on that list. It's a great way to corral your contacts for different areas of your business!
Here's how you make a new list
* While you're logged into Twitter, navigate to the Twitter page of an account you'd like to add to a list. You need to be following an account in order to add them to a list, so if you haven't followed them yet, do that now.
* Click on the gear symbol next to the 'following' button. On the drop down menu, choose 'Add or remove from lists'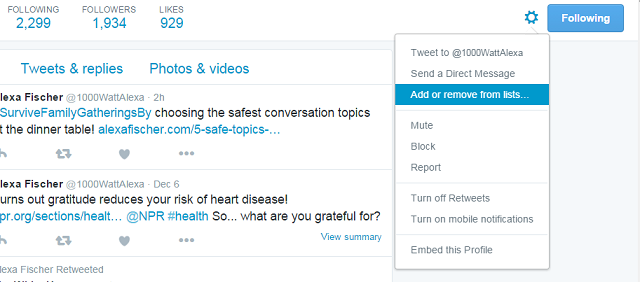 * Create a list that matches one of the goals you've defined. "Editors to pitch" or "Travel bloggers" or "Thrift-friendly style bloggers."  If you don't want people to know that you're following them for a specific purpose, make your lists private.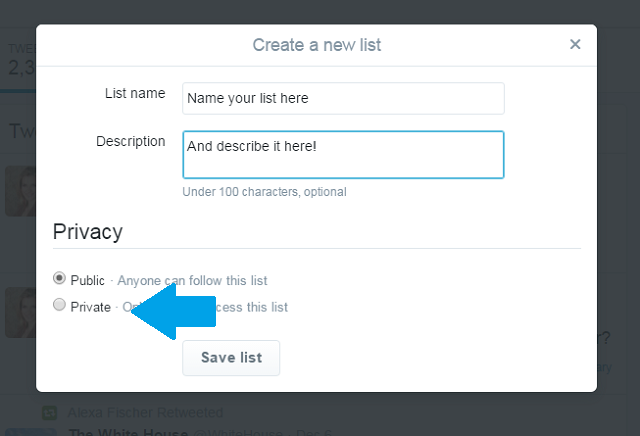 3. Each day, spend 10-20 minutes networking with a different list
What does 'networking' look like? It's retweeting their stuff, chatting with them, asking them questions about their work or topic, telling them how you felt about the last piece they published.
Maybe, on Monday you respond to and retweet fashion bloggers. Tuesday = editors. Wednesday = travel writers. Make sure that your tweets are genuine, helpful, and (preferably) funny.
4. Pitch them!
After you've been doing this for awhile and you feel like you've built some rapport, go ahead and pitch them! By now they'll hopefully recognize your name and URL because you're Twitter buddies.
So when you show up in their inbox offering a guest post or a press release, they'll be all "Oh, hello! It's my old friend So-and-so! I surely want to help her because she's a good friend with whom I have an established relationship! Hooray!"
See? Easy peasy.  Now I'd love to hear from you! How do you network and connect without, you know, putting on real pants?