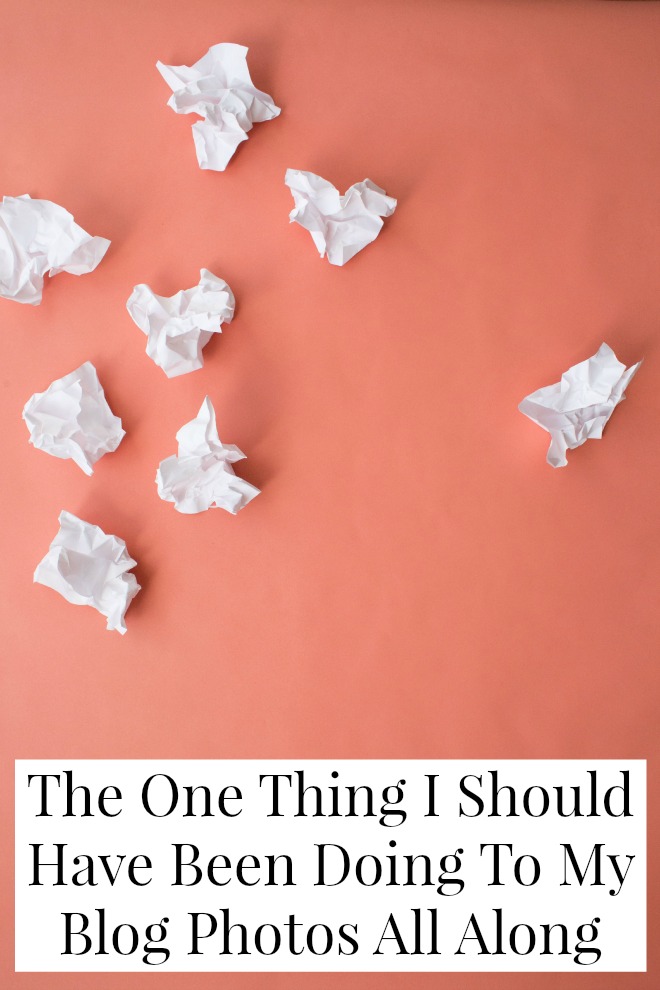 Because I don't really use Pinterest (except to make snarky joke boards about over-priced designer clothing) I've never paid much attention to the image-based marketing juggernaut. I put 90% of my social media efforts into Twitter and a lot of the things I publish aren't particularly Pinterest-friendly. I mean, who's going to pin an interview with a former stripper? Or a list of things that are annoying unless you're the one doing them?
But I created several of my post series with the express purpose of publishing more Pinterest-worthy content. Pinterest loves fashion (like my Real Life Style Icon series) and food ( like Read // Eat and Kitchen Globetrotter) and pretty, travel-y stuff (Like the Mini Travel Guides).  And then I proceeded to learn nothing about Pinterest.
It's time for you to learn from my mistakes, friends. Let's talk about editing the title text of your photos.
Here's the deal.
When someone hovers over a photo on your blog and clicks that 'Pin it!' badge, the description box on Pinterest will auto fill based on the information you've provided. Of course, people can edit that info into something clever and helpful, but most of us are lazy and will just click 'post.'
Which means if you didn't fill in the title text on your image, someone just pinned a boring, poorly described image from your blog and not many people will feel moved to re-pin.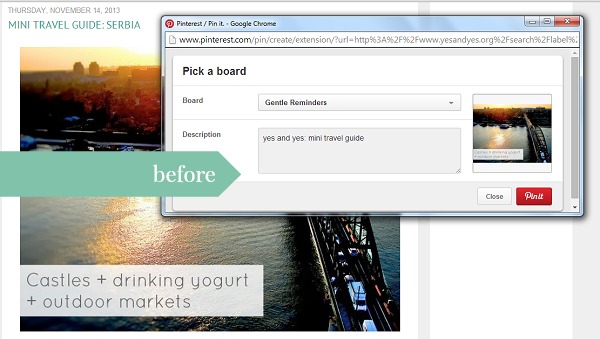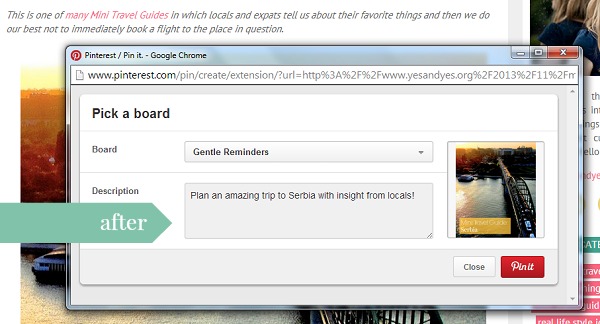 And here's the great part: it's insaaaanely easy to edit the title text on your photos.
Here's how to edit these in Blogger:
1. Upload a pretty, Pinterest worthy photo (Here's how to make images more Pinterest-friendly.)
2. Make sure you've saved the photo with an obvious, Google-friendly name. "Girl holding cheese" not "79340_hyl.jpg"
3. Right click on the photo, then click on 'properties'

4. In the 'title text' box write something engaging and descriptive that would look good under a pin.
5. In the 'alt text' box describe the photo, again using obvious, Google-able terms. The alt text is helpful to assistive screen readers. 

You can edit your title text in WordPress by editing the 'Image Title Attribute' under 'Advanced Options.'
That's it! Now people are about a million times* more likely to repin that content you worked so hard to create. 
Now excuse me please, I've got to go back and edit every post ever.
(Just kidding!)
(mostly.)
What belated blogging epiphanies have you had? Share 'em in the comments!
*approximate estimation.