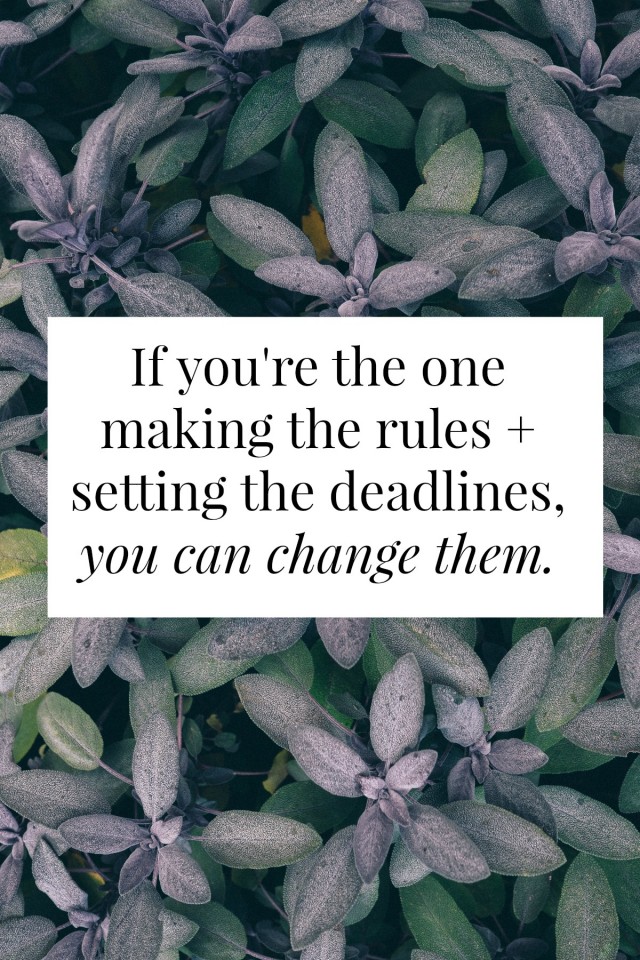 I am an inveterate rule-follower. 
I love nothing so much as structure and guidelines and an extremely concrete way to measure my progress and success. I loved school - all the gold stars and high marks and quantifiable gains. This is how I know I did it right. This is how I track my achievements. When I follow these guidelines and check these things off my to-do list, I WILL BE SUCCESSFUL.
You can see this in my writing and my posting schedule. This is my air-tight, eight-step plan for getting over a breakup. (No, seriously. That ish works.) These are the activities I do every blessed day. Mondays are for True Story interviews; Wednesdays I post here; Saturdays are sponsor posts, Sundays are link roundups.
This approach isn't limited to my schedule and editorial calendar, it extends its boring, inflexible fingers into the way I think about myself as a writer and businessperson. All my offerings must operate on a three-day turnaround. Since I don't use Pinterest it's not a useful tool for me. If there aren't actionable takeaways, the blog post isn't worth writing. I'm not the sort of blogger who __________. I am the sort of blogger who ____________. 
While there's a lot of value in posting consistently, developing good professional habits, and putting a few things on autopilot - what would happen if we pressed pause for a hot minute?
What if you (and I) took a long, hard look at the rules + expectations + deadlines we've imposed on ourselves?
Ask yourself:
Do I really need to post five times a week?
If 90% of my traffic comes from ______, do I really need to  ________?
If 90% of my business comes from ________, do I really need to __________?
What if I gave myself _____ days to complete this project instead of ______?
Will the world end if I don't _______?
Will my business collapse if I don't ________?
What if I got really serious about monetizing my blog?
What if I stopped trying to monetize my blog and just wrote about whatever I wanted?
What if I chose to want less?
What if I opted for intentional ignorance?
What have I always believed I'm bad at? Am I really sure that's true?
What have I always believed isn't 'right' for my business? Am I really sure that's true?
When I'm thinking about my work, where do I use the words 'always' and 'never'?
When we re-write (or re-consider) the rules of our business, we're creating breathing room & space to grow. Click To TweetWe're getting off the 'should' treadmill, we're ducking away from the 'always' and 'nevers'. We're allowing for self-compassion, evolution, and maybe a day off once in a damn while.
Dear internet friends, if you've been living by rules that you wrote for yourself + your business years and years ago -maybe it's time to re-write them. I know I'm going to.
Do you have rules for your business - subconscious or otherwise? Do you ever stop to reconsider them?
P.S. What to do when you feel 'should-y' about your business