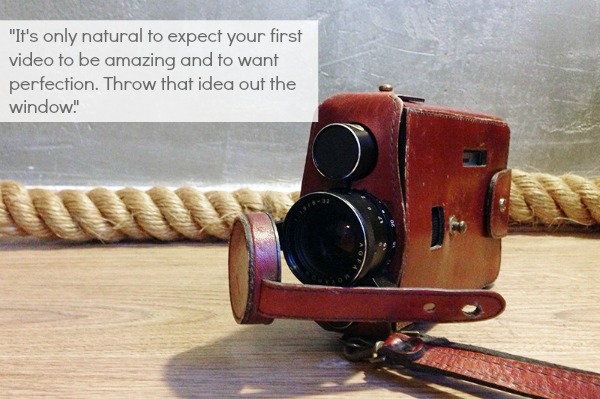 This guest post comes to us via Share Ross best known as the former bassist for 80's platinum-selling all female rock band, Vixen. Many years later she went on to become a video editor and producer for clients that included Sony, Geffen, Universal and BMG. Share launched Video Rockstar University to help female entrepreneurs unleash their inner rockstar on camera.
Making videos can be intimidating. Makeup!  Lighting!  That weird accent that you didn't realize you had!  But after working with tons of clients, I've found 12 easy ways to look awesome on video.
1. Smile
Seriously. Smile a lot. It opens us up to what you have to say.
2. If you wanna be a star, you gotta show up
If you wanna make videos, that means you actually need to press record. Go.
3. Make an effort
Spend a little time to look 'nice' for the camera. If nothing's working and some days, let's face it, it just ain't, grab some shades and rock 'em.
4. Be the supporting actor
Your videos have a purpose. No matter if the purpose is selling, promoting, educating or something else, make the videos about your viewers.  Let your message be the star.
5. Dress the part
For most DIY videos all you have to do is wear a well fitted top. Easy, right?
6. Own the pauses
If a pause happens, let it be there. Don't panic. Just breathe.  "Be the silence."
7. Rehearse
Practice for your videos! Don't expect the brilliance to pour forth from you like water from a faucet. Practice your message a few times before you  press record.
8. Be seen
You gotta be lit to be seen. Make sure you've got lights in front of you, not behind you. And if possible avoid those nasty overhead fluorescent lights that give you dark circles under your eyes. Unless you're going for that whole Dracula look. Which is cool, too.
9. Allow evolution
It's only natural to expect your first video to be amazing and to want perfection. But throw that idea out the window. Allow yourself and your on-camera persona to develop over time. Give it room to evolve. You, your videos and your on-camera energy will keep shifting and changing the more you do it. And that's a good thing.
10. Can we hear you?
If you invest in a lavaliere mic, it will make a huge difference. The Audio-Technica ATR-3350


is about $25 and works with most laptops.
11. Gaze
Get used to gazing with love into the camera lens. Melt us.
12. Finally, be daring. Be adventurous. Be unpredictable
Challenge yourself. Surprise us. The results will be stupendous.  Shoot for passion instead of perfection.
Do you use video for you blog/website/business?  Any tips to share?
vintage video camera in image for sale here