This guest post comes to us via Maria Ross, creator of Red Slice, brand strategist, speaker and author who believes cash flow and creativity are not mutually exclusive. Maria's latest book, the 2nd edition of her Amazon best-selling book, Branding Basics for Small Business: How to Create an Irresistible Brand on Any Budget launched on April 1. For your reading pleasure, below is an adapted excerpt, which includes insights and tips from the author of I'm at a Networking Event-Now What???, Sandy Jones-Kaminski.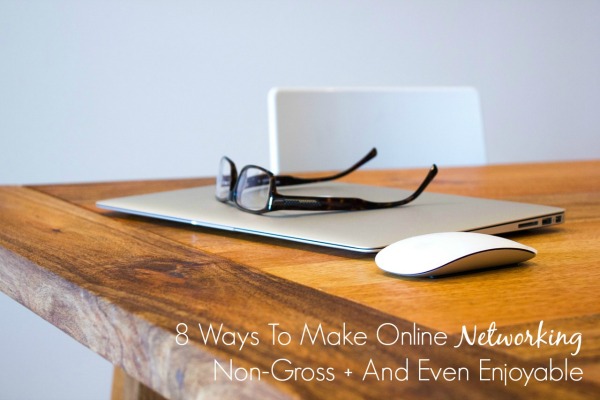 Networking. Ugh. For those of you rolling your eyes at the thought of making idle luncheon chitchat or tooting your own horn a bit, consider this: Since brand is all about every touch point and experience people have with you, making connections and networking is a vital component of your brand-building strategy.
Few business owners realize that networking—in-person or online—should actually be a marketing budget line item and something you schedule into your weekly plans.
When engaging in social networking online, come at it from a place of generosity and mutual benefit, not a sales angle. Try to present yourself online as you would at an in-person event. You'd never just meet someone for the first time, shove your business card in their face, and ask them to buy what you're selling, would you? While there are some people that do this, it's not the best way to boost your brand perception! Be human and be consistent online with your brand, just as you would offline.
You can use social networking platforms to follow up on connections you make in person to reinforce your brand. When you meet someone at an event, exchange cards and invite them to connect with you through social media. If you do this, they are more inclined to click through to your profile and learn more about your business and brand than if you'd sent an email with a website link. Make sure you take the time to create a polished profile that reflects your brand.
Here are eight tips for achieving online networking bliss:
1.  Follow up online with offline contacts
When you meet offline, immediately connect with key contacts through online social channels, such as Twitter, LinkedIn, or Google+ to keep that connection fresh and avoid spamming.
2.  Personalize the note
Do not send invitations to connect on a social channel without personalizing the message. Say something meaningful! Remind them how you met or compliment them on their website.
3.  Give before you get
Think about a connection you can make for this person that benefits them. Surely there is someone you know who might make a good client, partner, or mentor.  Be generous and share.
4.  Acknowledge people who acknowledge you
Try to acknowledge @mentions or Comments when you can, especially those on a blog post or group discussion you've started in social media.
5.  Participate in online groups
Many social media platforms such as LinkedIn or Facebook offer online groups. Try different groups on for size and see which ones fit. Keep your active groups to a manageable number, maybe just 2-3 per platform. Test them out and if they are not working for you, leave the group. Remember to spend some time listening and reading posts or searching for key terms first to get a feel for the vibe before you jump into conversations.
6.  Follow experts and other thought-leaders
With many social media channels, you can follow people to whom you are not linked, whether they are famous or not. Share their valuable content with your connections rather than always using your own cntent.
7.  Don't join too many peer groups
This is true for both online and offline networking. While it's important to network with peers, collaborate and gain support and referrals, remember not to join too many groups filled with your competitors!
8.  Stay clear and true to your brand, and the right people will find you
Staying active in group conversations is a great way to get your name out there so that reporters, bloggers, and other media influentials in your space can find you. And if they are in your groups, be sure to comment on their posts as well. If you do, this makes it less of a "cold call" if you ever want to pitch them later on.
As with any other part of your brand-building plan, you must recognize the need to put in networking time.  This will be valuable time you bill to yourself. While it's a different form of marketing, networking reinforces your personal and professional brand. Remember, when you work for yourself or a small organization, you don't have a million-dollar budget behind you to promote the brand. You are the brand.
How do you feel about networking? How do you do it in a way that feels good to you?
photo by craig garner // cc // via unsplash