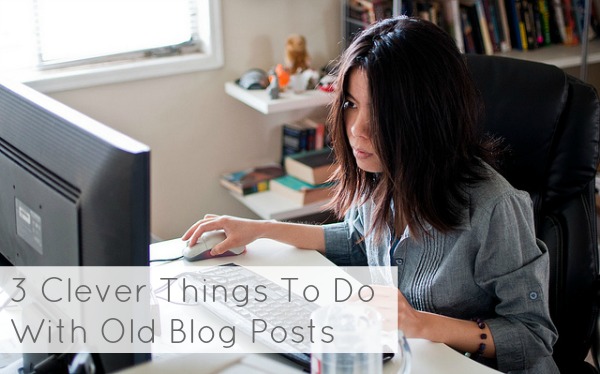 In internet years, I'm practically a dinosaur.  Yes and Yes has been around since 2008 and I've got 2,300+ posts in the archives. Crazy, right?  Now, it seems a pity and a waste to let all that writing sit there and gather dust so I've been brainstorming other things to do with them.  Want to try some yourself?
1. SEO-ify it, pretty-ify it, and re-promote it
When I started blogging, I'm not sure that SEO was even A Thing and if it was, I surely didn't know about it.  While my content was good, my titles were too quirky and mysterious to inspire much click through and all my photos were saved as "008138ejplorb.jpg."  This was also the age when people used any old photo they found - regardless of copyright and I wasn't any different.
Here's what you should do to make your old posts more awesome
* Find the best ones. Hint: they're probably tutorials or how-tos
* Find a good, legal image for them. I like Flickr Creative Commons (sorted by 'most interesting') or Unsplash for beautiful, legal images
* Rename the photo as something SEO-friendly -  "woman-using-computer" not "9109282joli.jpg."
* Put the title of the post on top of the image. This will make it more Pinterest and Twitter feed friendly.  I use Picmonkey for all my photo editing needs.
* Add spaces, bolding, or headings to make your post more readable.
* If you named your post something 'clever' the first time around (like song lyrics), rename it something obvious and Googleable
* Schedule out a few tweets to re-promote your newly awesome old blog post
Offer it as a guest post
Do you have internet friends? Of course you do.  Do they ever go on vacation or need a break? Dur. When that happens, offer up the best of your archives to fill that time while they're off drinking margaritas on the beach.
Or you can rework the best of your archives and offer them as guest posts to any of the websites that syndicate content. Thought Catalog! Mind Body Green! Daily Love! Etc.
Put it in a different format
Some people like to read blog posts.  Other people want to listen to podcasts as they drive or watch Youtube videos during lunch. There's absolutely no reason you can't repurpose your old content in new forms.  I can take all of my most popular travel blog posts and turn each of them into a video.  I can turn old posts from this small business blog into infographics.  I turned my Real Life Style Icon interviews into a newsletter opt-in ebook that netted me 1,000+ new subscribers.  Please feel free to copy all of these ideas and use them yourself!
What are you doing with the posts in your archive?  Share your best tips in the comments!
P.S. Does all this advice ring true?  But maybe you need a little bit of extra help with your blog or a loving push in the right direction?  I can help!  For less than you'd think!
photo by ray from la // cc