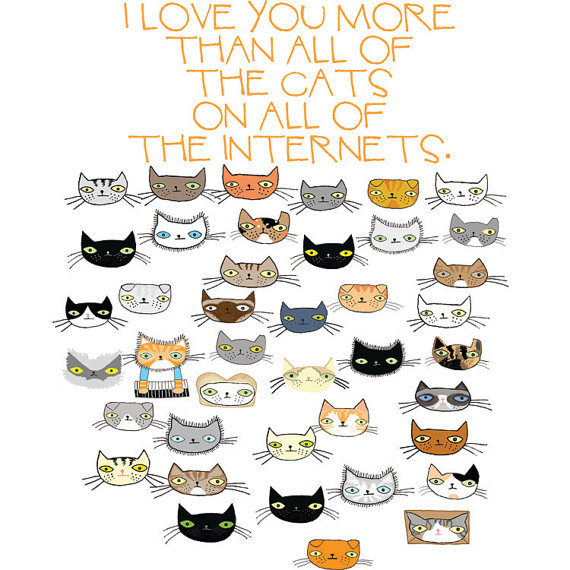 Guys! I rounded up the best of the internet for you! Also, this awesome internet cat poster. 
Want to write an ebook? Here's a 16-part (!) blog post series on just that - from writing to distribution to marketing. I've written three ebooks and now I realize how much more I could have done!
Related: an incredibly helpful post from Anna Watson who printed + published her own cookbook AND did a book tour AND all the promotion!
I reached out to the marketing department at Volkswagen on a whim, to see if they would be up for lending me a car for the trip. Amazingly, they said yes, and lent me a brand new silver Beetle Coupe. It was such a fun car to drive, and they let me just drop it off at LAX when I flew to Seattle. (I then flew back to NYC.) The whole trip lasted just under one month.
To help cover food costs, I reached out to Whole Foods (again, cold-calling the marketing department) and they agreed to cover the food and wine costs of the trip. GoPro also gave me a camera to document the trip – we got great footage, but I still have to learn to edit it so I can share it on my
Kyla rounds up a bunch of super helpful platforms and tools to help make your online business run more smoothly. I hadn't heard of lots of these!
12 ways to get more people reading & sharing your blog from my girl Alex.
Do you have an auto-responder series?  It's about half way down my internet to-do list. Here's how to do it when we're ready.
BOOKMARKBOOKMARKBOOKMARK. 23 Phrases Every Stressed Out, Strung Out, Well-Meaning (Yet Irritable) Business Owner Needs to Memorize TODAY.

"Though my hands are tied on this one, here's what I can do:____________."
"As a courtesy, I wanted to go ahead and send over my new rates for your records. (It's such a blessing to be in demand.)"
"Thank you for the note, and the much-appreciated explanation regarding your position. Now let me help you understand a little bit about mine."
Want to stay healthy while staring at a screen all day? These six stretches will help.
A cute home office is a productive home office, right? Here are 23 brilliant ideas to decorate and organize yours.
A couple posts you might have missed: 20 minutes to a (much) better business and Using Twitter lists for fame and fortune (or, you know, time-effective networking)
If you read/found/wrote anything awesome lately, leave the links in the comments!