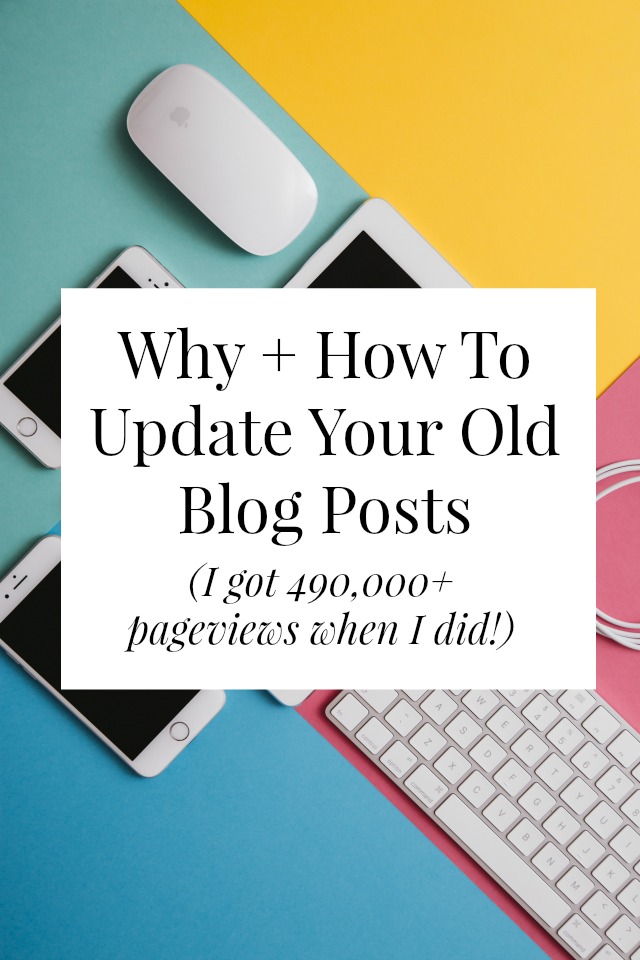 Earlier this month, for the first time in my seven years of blogging, my site crashed due to traffic.
I responded the way anybody would. I joy/panic ate a large bowl of guac. I made my husband stand behind me and marvel while I refreshed the '509 bandwidth limit exceeded' page. Then I spent three days emailing back and forth with my website host. (<- insert unimpressed emoji here.)
But the really crazy thing about the post that went viral: it was an old post.
I'd updated it and pinned it. And then ish got real. As I type, that post has 492,195 views. That's more than I usually get in a month; it's helped me land 1,000+ new subscribers and hundreds of dollars in ad revenue.
If that's not reason enough to update your old posts, here are more!
Why you should update old posts
You've learned new things
When I started blogging 1,000 years ago I knew how to write …. and that's about it. I didn't understand SEO. I didn't know how to make my images Pinterest-friendly. Hell, I'm sure I used copyrighted images because I didn't know I shouldn't!
The longer you blog >> the more you learn >> the better you get. I'm sure you have old posts that are built around good ideas. It's just that those ideas are wrapped in enormous paragraphs, illegal photos, and terrible SEO. Give those ideas a chance to live + breathe + reach new people!
The internet has changed
In 2007, it was common/clever to use song titles, lyrics, or funny non-sequiturs as blog titles. We could center justify 200 words in one long paragraph and call it a day. I'm sorry to say, that ish doesn't really fly now.
Readers want obvious, helpful titles, in-depth tutorials, short + readable paragraphs. Thankfully, it's not hard to rework old blog posts to meet today's standards.
Your following has grown
I happen to think that I wrote some pretty useful stuff in 2008, but if I don't promote it or link to it in newer posts nobody's going to know about it. Most of us have our archives memorized - but that doesn't mean our readership does. I'm sure you're adding new followers and subscribers every day; make it easy for them to fall in love with your old stuff!
You have more to say
I started blogging when I was 27. Since then, I've traveled to 12 more countries, left my career in education, worked with hundreds of clients, walked away from a book deal, moved, gotten married, and become a stepmom. Not surprisingly, these changes have given me All Sorts Of Insights into things I wrote about in the past. I have so many things I'd like to add to those posts about what to pack and how to get the love life you want!
I'm sure you're the same. Tuck some of that fresh wisdom into old posts!
You've probably changed your offerings
Sooooo many of my old posts include links to services I no longer offer! Quelle horror! And the older posts that tie into the services I currently offer don't mention that. Like, at all. You too? Let's change that.

How to update your old blog posts
Start by deciding which posts you're going to update
I have, somewhat ridiculously, 2,000+ posts in the Yes & Yes archive. Not all of those posts are created equal! If you have a huge back catalog as well, this will help.
Update posts that are timely
Tax season is rearing its ugly, complicated head; update your post about taxes and freelancers. Update your post about Spring Break destinations, recipes for Easter brunch, or St. Patrick's Day cocktails. You get the idea!
Update your most highly trafficked posts
We can't always control which posts get the most traffic (my sixth most popular post is an interview with a woman who has herpes). Even if that's not the post that I like the most, it gets hundreds of pageviews every month. I may as well make sure it's nicely formatted, SEOed, and links to other posts.
Update posts that relate to your current offerings
Are you offering Instagram mentoring? Go back through your archives, find all the posts that relate to Instagram, update, and re-promote them. Is your new brunch cookbook about to come out? Update all your posts that feature brunch recipes. Etc, etc. forever and ever, amen.
Update posts that relate to your content upgrade
What's a content upgrade? It's a little ebook, a checklist, or a resource that lures people into joining your list. Usually, a content upgrade is specific to one blog post; it's written to compliment the topic addressed in that particular post. But! If you've created a content upgrade that's applicable to lots of posts, update those old posts to include the upgrade and then re-promote the posts.
I created this content upgrade about romantic relationships and then I tucked it into this post about things you should say to your partner, this post about setting realistic relationship expectations, and this post about moving in together. I promoted all of those posts around Valentine's Day and got 250 new subscribers!

Ways to update your old posts
Clean up + gussy up the copy
Download Grammarly. Print the post out and proofread it backward, sentence by sentence. Lose the obvious, trite turns of phrase. Keep your paragraphs short - no more than five lines long.  Run the headline through Headline Analyzer and edit accordingly. Add a question at the end of the post to make it more engaging and more likely to elicit comments.
Double check the links
If there are only a few links in the post, it's easy to check them by hand. If you're feeling brave, run your whole site through Brokenlinkcheck.com. The results are horrifying/awesome.
Download Yoast + SEO your updated post
I only started caring about SEO mortifyingly recently and I've almost doubled my page views. Crazy, right? Yoast is understandable to us plebians and offers great customer support with tons of tutorials.
A few things I can tell you right off the bat: add title text to all your photos (that's the text that auto-populates to Pinterest when people pin your stuff). Use H2-sized font for your section headers. If you top all your blog posts with an image, don't embed a link in that photo; embedding a link tells Google that link is the most important thing in the article.
Add new content
What's changed since you originally published this post? Have you found any new apps that help solve this problem? New beauty products? New kitchen gadgets? New epiphanies?
But you knew that already, right? You know the deal: tall, long, pretty image. Keyword-rich description. Pinned to a topic-related group board. BOOM. Done. Here's a great roundup of free images for bloggers.
Link to related posts
Maybe you wrote that post about Twitter in 2010 and since then, you've written about Twitter three more times. Link to those later blog posts! If you can't find a way to work links into the body of the post, just tuck them into a P.S. Even if you use a 'related post' plugin,  P.S.'s can be really effective. People get 'blind' to those plugins and they don't show up in RSS feeds where most people read blogs.
Create a square image to promote the post on social media
93% of the most popular social media updates include images. I'm sure you're already including images in your Facebook updates and obviously on Instagram, but did you know you can include images in your tweets? Just click the 'media' button and upload an image of your choice!
Re-promote the post on all your social media accounts
Is your post as awesome as humanly possible? Wonderful! Now share it on all your social media profiles. Schedule an update on Facebook (at 9 am, 1 pm, or 3 pm - the busiest times on Facebook). Post it to Twitter, Instagram, Google+ or LinkedIn. Pin it again.
If you linked to anyone in the post, let them know
Paste a link on their Facebook page telling them how much you love them and that you're talking about them. @mention them. Send them a real, live email. Maybe you'll make a new internet friend! Maybe they'll share the post! They won't be able to share it if they don't know about it.
Whew! I know that's one metric ton of information and lord knows I've still got puh-lenty of posts in my archives that could be polished and honed. But it's worth it! Promise!
Do you make a practice of updating old blog posts? If you do, how do you update them? And what do you do?
P.S. 6 Business Goal Setting Tips That Won't Make You Gouge Your Eyes Out