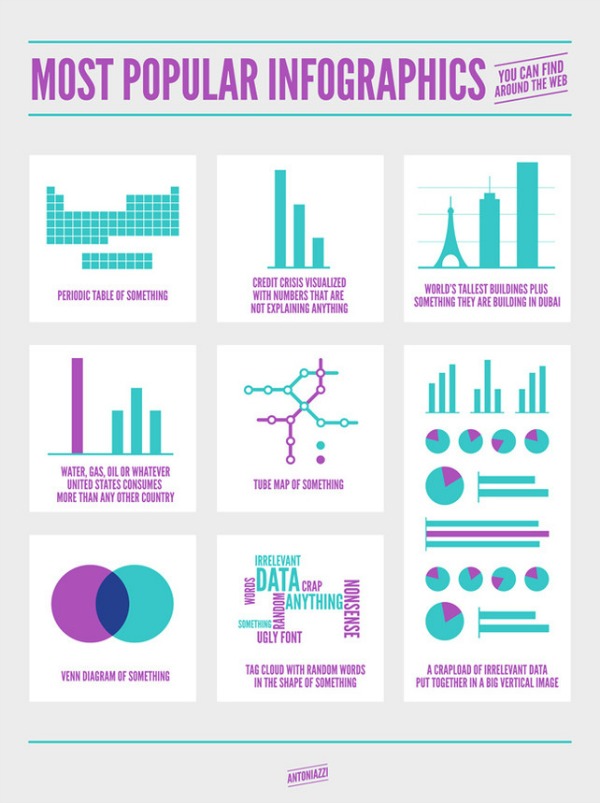 This guest post comes to us from Cristina Roman. She's a Digital Strategist at CMR Strategies and the founder of One Woman Shop, a resource site for freelancers and solopreneurs. In her spare time, she drinks too much Starbucks coffee, volunteers, plays tennis, blogs, and makes gluten-free meals. Want to connect with Cristina? Find her on Twitter or join her email list!
Who hasn't heard of infographics by now? These colorful graphics have been circulating the internet for the past several years - a quick search on Pinterest generates thousands of results. A fun side note: though infographics have been having their heyday recently, they've actually been around for centuries- cave paintings and the Washington DC Metro map can both be considered infographics!
If you're looking to capitalize on the popularity of this visual trend but worry about your lack of graphic design skills, take note of these tips for the amateur designer.
Get inspired
Browse Google or Pinterest for design ideas that grab your attention. Use the description area on Pinterest to add notes on what you like best about the design- is it the amount of white space? The use of various types of graphs? The incorporation of interesting angles and shapes? The theme (maybe it's vintage or digital or 80's…)? Obviously, copying another designer's work is never cool, but don't be afraid to pull elements that you love from other pieces.
Choose a palette
If you're creating an infographic for your brand, consider sticking to your brand colors and fonts (here's where that style guide will come in handy!). Not sure what colors your designer used? Upload an image of your logo or a screenshot from your website to this handy tool to figure out the HEX code of the color used. If you're looking to experiment with new colors, check out one of these 10 super useful tools for choosing the right color palette. Lastly, find lighter and darker shades of any HEX color with this tool from W3Schools.
Choose fitting fonts
 Slap a cool font on anything and it instantly jazzes it up. Fontsquirrel.com offers free downloads of fonts available for commercial use. Love a font that you saw while browsing Pinterest but not sure which one it is? Use WhatTheFont! (how awesome is that name?!) to determine the font style. If you're completely overwhelmed by all of the fonts out there, check out this infographic on the psychology of fonts (see what I did there?) to find a good fit for your purposes.
Take advantage of free tools
With the rising popularity of infographics in marketing, several websites have cropped up to make it easy to create professional-looking infographics in minutes. Both infogr.am and visual.ly offer pre-made templates that you can insert your own data and content into. Infogr.am allows you to create interactive (read: clickable) infographics from your data. It quickly converts data from Excel into an infographic and has lots of themes to choose from. On the down side, there are limitations to the graphical elements you can insert and no branding is available with the free version.
Looking to create infographics for internal use? Link Visual.ly to your Google Analytics account or Facebook Insights! Want to take advantage of the infographic trend? Visual.ly can be connected to your LinkedIn profile. Visual.ly's limitations include the inability to customize certain data and, like with infogr.am, no branding is available on the free version.
Ready to design your first infographic? Get out there, you future design whiz! Once it's complete, read up on a few tips for promoting your colorful and informative marketing visual.
Do you use infographics for your business or blog?  How do you create them or find them?
infographic via wired.com // by alberto antoniazzi