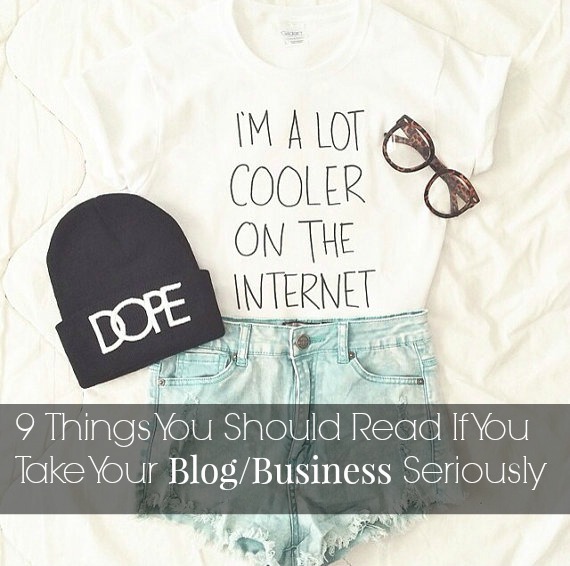 hilarious shirt via Wild Republic Designs.
SUCH A GOOD IDEA! (all caps necessary) Tackle your passion project with the 90-90-1 rule:
For the next 90 days, devote the first 90 minutes of your work day to the one best opportunity in your life. Nothing else. Zero distractions. Just get that project done. Period.
I've pretty much given up on Facebook now, but if you haven't, here's how to see what is and isn't working.
A checklist of 40 (!) things to consider before publishing a blog post.
How many of these do you do? 12 weekend habits of highly successful people.
Timothy Ferris: Don't multi-task
Multi-tasking is so 2005. It may be tempting to maximize your weekend productivity by running on the treadmill while calling your mother and trolling your newsfeed, but successful people know that this just reduces efficiency and effectiveness. Instead, be present for each single activity. Ferris recommends a maximum of two goals or tasks per day to ensure productivity and accomplishments align.
Ever get a little annoyed when people want to 'pick your brain' (re: get free consulting from you)?
Now you can say no, gracefully.
Loved these five tips for new business 
Attract now, repel later.
As a new business, in the beginning it's a good idea to stay open to different kinds of clients. Learn from each and build a solid financial cushion before specializing. Once you've passed the year mark, step back, reevaluate and decide who you'd like to attract more of. Focusing in on a particular niche will help you to position yourself as an expert and when you specialize, you'll be able to charge more for your services.
Five really easy ways to make sure people open + read your email newsletter.
A good reminder when it comes to creativity: you're a river, not a reservoir.
Be the river. Allow life, and people, and the universe to pour into you. And instead of worrying if you'll ever get anything more, let it go, pay it forward, release it on into someone else's life. Create the space for more to be poured into you!
If you're a beauty, fashion, or design blogger you should really know about these 12 blogger blogger outreach programs.
And a few posts I wrote that you might have missed: How to blog if you don't like writing and 6 oddly obvious mistakes you might be making online.
P.S. If you don't want to miss any posts, jump on my list! I'll give you two free ebooks as a thank you!