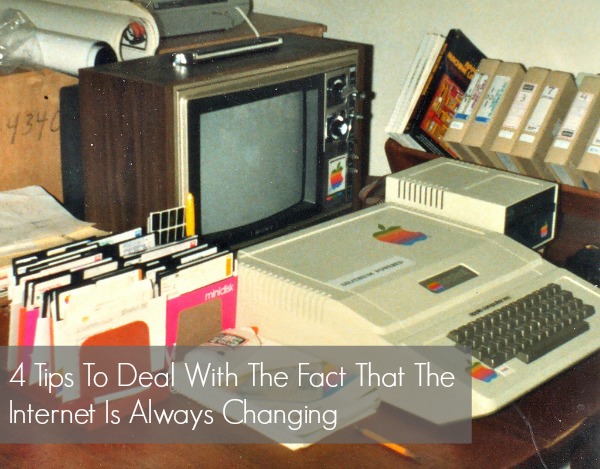 When Facebook changed its algorithm (so it sucks even more than usual) I was so, so angry. Incensed! I'd spent four years building up a Facebook page with almost 4,000 followers and now Mr. Zuckerberg was telling me I'd have to pay to access the people who actively opted to follow my blog.  I maaaay have tweeted some cuss words about it.
I can swear about it all I want, but that won't change Facebook's new policies and it won't change the fact that blogging, social media, and the internet in general, change at the speed of light. It can be totally overwhelming to try to stay on top of the internet as is currently exists.  New developments?  Forget it.
But there's a reason we have all those sayings about 'evolving or getting left behind'.  And it really is possible to evolve along with the internet, without losing your mind to overwhelm.
Here are four ways to deal with the fact that internet is always changing - and some tips about how you can change along with it.
1. Before you dive into a new social media platform, really think about if it works for your business
There are new social media platforms popping up left and right and it can be really beneficial to be an early adoptor.  But if you want to use a platform really effectively, you should be creating content that's specific to that platform - don't just push your Instagram photos onto Facebook or your Facebook status updates onto Twitter. It's lazy and it looks unprofessional.  And creating that custom content is time consuming, so make sure the platform is a good fit for your business before you hire someone to manage your account.
You're a local bike shop that specializes in mountain bikes and 90% of your customers are men? Maybe don't devote 10 hours a week to Pinterest.
You're a travel concierge who creates custom trips for high-end clients?  You're obviously taking gorgeous photos of all your adventures and posting them on Instagram, right?
2. Stay on top of changes by listening to podcasts
I'd be remiss in my duties as your internet BFF if I didn't tell you to read Copyblogger, Problogger, and Mashable. But even I don't have time to read everything they write - and I'm on the internet for a living!
So here's what I'd suggest instead: listening to small business/entrepreneur/social media podcasts. You can listen in your car or while you putter around the house and even if you don't absorb 100% of that information you'll be better off than you were before. Podcasts to check out: Fizzle // Suitcase Entrepreneur // Smart Passive Income // The Unmistakable Creative
3. Change your offerings to reflect changes in the market
Did you start your career helping people making Myspace pages? If you did, you've probably altered your offerings a bit, yeah?  My Solution Session offering includes a plan for Facebook + Twitter domination - but I'm thinking of scrapping the Facebook portion of that and including something else.  I fancified and updated my free ebook to reflect Twitter's new in-stream photo option and using Twitter lists. Changes in the market create opportunities for you to help people in totally new ways!
4. Know that you can also be successful by doing the opposite of what everyone else is doing
We've all heard that blogging is dead because people only have the attention span to look through Instagram photos.  Or that the only blog posts that matter at gif-riddled listicles.  And there's probably a grain of truth in there.  But you know which blogs I love these days?  The ones that publish long, well-written personal essays.
There are well-known bloggers who don't have Facebook pages (I'm looking at you, Alex).  Print media is allegedly dying and Danielle Laporte is launching her own printed magazine.  You can opt out of new things that don't resonate with you try something completely off the wall - an actual, print mailing list!  Where you send your readers postcards! Taking photos with a film camera! Writing long form pieces! Creating and printing a newspaper!
There are certain non-negotiables in business. Customer service, taking pride in your products and services, talking about what you do in some form - print advertising, Instagram, billboards, giving your customers a good product for their money.
The rest is up to you.
How do you stay on top of changes online?  What changes have you made recently?
P.S. If you'd like help mastering the internet in the least overwhelming way possible, I can help! I've been blogging 5+ days a week (even while traveling internationally!) without losing my mind, so I know a thing or two about creating an online presence in a doable way.
photo by jurvetson // cc