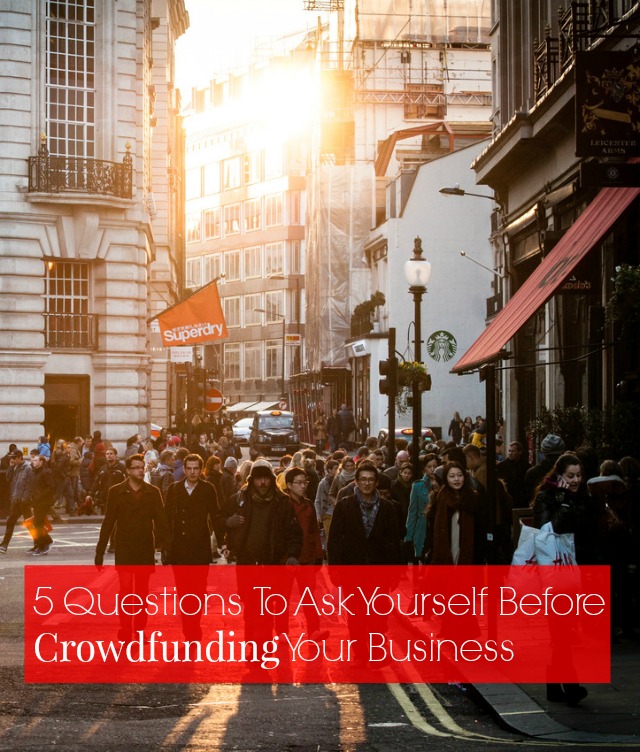 This guest post comes to us via Brenda Bazan and Nancy Hayes who co-founded MoolaHoop. It's a rewards-based crowdfunding platform created by women to help women leverage the "power of the crowd" to grow their businesses. MoolaHoop enables female entrepreneurs, business owners and managers to garner financial support for their projects by reaching out to their customers, offering Rewards in the form of special pricing on their products and services and unique experiences. Follow along on Facebook and Twitter. 
So, you've heard the impressive crowdfunding success stories and are looking to launch your own campaign for your business. Great! Crowdfunding can be an excellent debt and equity-free way to raise funds to grow your company.
However, a crowdfunding campaign is a full-time marketing campaign. It involves a lot of preparation and hard work. Before you start your project, you should assess whether it is the right funding tool for you. Here are five questions to ask yourself to determine if your business is right for crowdfunding:
What kind of business do I have?
Crowdfunding works best if you have a consumer product or service.  If your business serves other businesses, this may not be the method for you.
Rewards-based crowdfunding is essentially a pre-sale of products that your customers want right away. So the most successful campaigns offer early availability of new products or exclusive deals on things your customers love.
Do I have a "crowd"?
Before you take on a crowdfunding campaign, you need to have a concrete list of who your customers are.
Collect their e-mails, invite them to like you on Facebook and have them follow you on Twitter. Once you have your followers, you'll be able to start a conversation and engage real people in your business.
You can do things like provide special discounts, event invitations or access to behind-the-scenes content. Offer them something exclusive that is only available to people who join the community
Before you start a campaign, you need to determine how big your social network really is. How many people follow you on Twitter? How many receive your e-mail newsletter? These are the people you will be inviting to support your campaign, so the bigger your crowd, the wider your reach.
40-50% of your pledges will come from your direct social network and the remaining 50-60% will come from their networks. This means you have to have a big crowd and a story that people are compelled to share with their friends and family.
How do I tell my story to best engage my supporters?
People always want to be part of a success story. They want to be able to say that they "knew you when." They like the idea of supporting you in building your dream.
So, you have to tell your story in a way that lets your supporters be a part of an exciting narrative. Rather than saying "I can't make my rent payments for the next three months, please donate to my campaign," instead tell people that there's enormous demand for your product or service but that you need their help to raise the funds to bring your product to market or move your business to a larger space. Always frame your story in a positive light to get people excited about your next step.
Can I offer appealing rewards?
A crowdfunding campaign runs for a limited period of time so your rewards have to invite people to act now. That means either they get the product before anybody else, or they get a deal or experience that will never be offered again.
Get creative. For consumer products, considering offering a limited edition color or style. For services, a special event or a behind-the-scenes experience can be very enticing.
Offering things that are currently available on your website or at your place of business is unlikely to elicit enthusiastic support.
Am I that person?
A crowdfunding campaign is a 24/7, nonstop marketing push. It requires you to ask and ask and ask for support. That will mean personal calls and e-mails as well as face-to-face meetings. This is definitely not for everyone. You have to be willing to really sell your business (and yourself) to be successful. You can't just sit back after you've launched your campaign and hope for the pledges to roll in.
In addition to your supporters, you'll need to get writers, bloggers and press interested in your story to give your campaign some extra PR fuel. It's best if you've built some of these relationships prior to starting your campaign. In other words, you have to be constantly getting the word out.
This checklist should help you determine if crowdfunding is going to be the right method to help you to obtain the capital you need to expand your business. We look forward to seeing you grow!
Have you ever crowdfunded a project? How did it go? Share your stories and tips in the comments!
photo by david marcu // cc