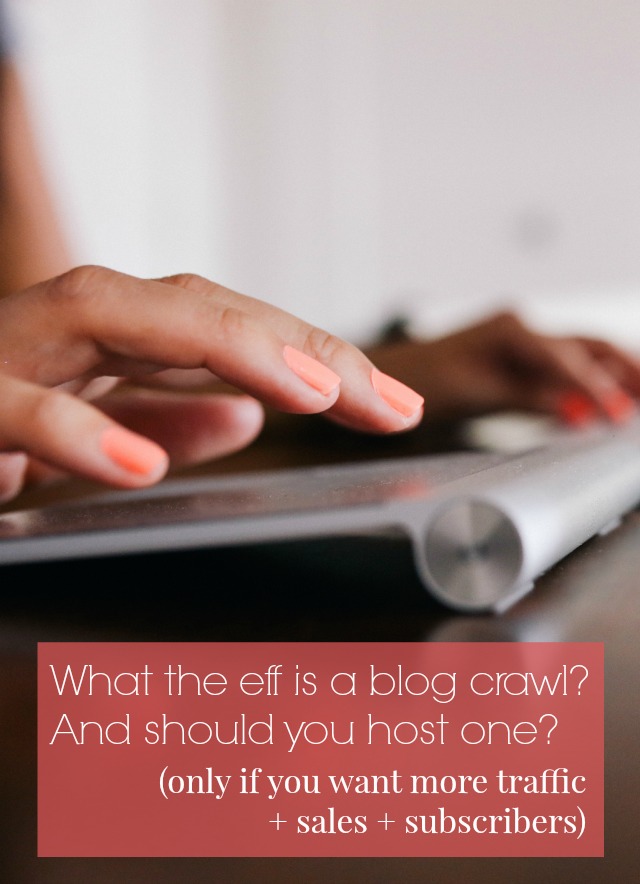 The first time someone asked me to be part of a blog crawl, my response was probably:
a) That sounds like a lot of work/vaguely annoying.
b) With a name like that, it can't be good. Pleeeeezzze. My blog can hop, skip, and drop it like it's hot. We do not 'crawl' in this house.
And then I got the eff over myself, took part in Molly Mahar's ABCs of Self-Love blog crawl, gained heaps of new readers + boosted my mailing list by a bajillion. Which is how, dear readers, I discovered what a blog crawl was.
Merriam Webster style:
Blog crawl (n) 
A tool used to drive traffic from on blog to another. Contributors post on a specific topic, each linking back to a main page and also to each other. Online traffic flows between the main, host site to contributors and from contributor to contributor through blog posts and social media promotion.
If you've been following along on Yes and Yes as I've launched by latest ecourse The Post College Survival Kit, you've probably seen the blog crawl in action.
Is hosting a blog crawl a lot of work? Yes.
Will it pay off? Like, a lot? Also yes.
If I haven't convinced you yet, here are four reasons you should consider putting together a blog crawl. 
1. It'll bring you (and your contributors) lots of traffic
This only makes sense, right? When coordinated correctly, everyone involved in the blog crawl promotes each other's work. That means heaps of talented, lovely people with clever, engaged followers linking to your stuff. Between everyone who took part in my blog crawl, we had a combined Twitter reach of 100,000+! So many exclamation points!
2. It'll introduce your readers to other awesome people they should know about
When you (carefully, strategically, lovingly) chose the right contributors, you'll be introducing your readers to hidden gems and new RSS feed favorites. Do you know a new or underappreciated blogger who writes about stuff your readers would love? Are you on a one-person mission to tell everyone about That One Blog? Well, you should obviously invite that blogger to take part.
I can't speak for the rest of the internet, but I struggle to find blogs I really like and when I do find one? I'm going to read the archives till my eyeballs fall out and send the links to my friends. Really, a blog crawl is just a slightly more civilized version of that. It's a win/win for everyone involved!
3. It'll strengthen your relationship with your contributors
I'm a big fan of good karma and spreading good will + traffic all around the internet (one of the reasons behind my most popular weekly post). I will so, so happily lend a hand to any of my contributors. Need another pair of eyes to check out that new ebook? Sure! Just want to commiserate about writer's block or snarky, anonymous comments? I'm there. And if I've got a client who needs what my contributors are selling - I'll be sure to pass 'em along.
When you work on a project with anyone, you get to know them a little better and strengthen your friendships. And friendships are what make the world - online and off - go 'round. 

4. If you're using a blog crawl to launch a product, it'll increase your sales like whooooaaa
The most obvious benefit to blog crawling? You'll bring in heaps more traffic, which will bring in heaps more sales. Instead of overwhelming my 6,000 Twitter followers with a million tweets about my product, my friends and contributors built up the buzz between their 100,000 followers. 8,700 + (!!!) people downloaded the free, 27-page sample of The Post College Survival Kit.  I gained 5-15 new Twitter followers every day of the blog crawl and I introduced contributors to my own 11,000+ readers and 4,000+ newsletter subscribers.
More importantly, my readers enjoyed the posts and other bloggers started writing their own 'Notes To My Younger Self' posts!





Over the next two weeks I'll be sharing all the behind the scenes, how-tos, and 'best practices' of creating and managing your own blog crawl. If you want to make sure you don't miss out, sign up for my newsletter and I'll drop all the goodies right into your inbox.
Have you ever been part of a blog crawl? Or hosted one? What worked? What didn't?
P.S. Why having a personality on the internet is good for business + How to befriend bloggers